Birds of Passage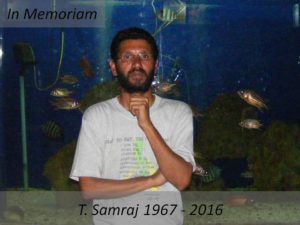 T Samraj 1967 – 2016
Sam came to know about Keystone in the year 2000, when Mathew and he did an assignment for IL&FS. He was brilliant, creative and ahead of his time. We used to joke that anyone who came to Keystone, after they met Sam, felt that they knew very little about their subject and area of expertise. That was his insightfulness and original thinking. We have lost a brilliant mind and a senior person in Keystone who understood the linkages and was a clairvoyant.
He mentored several people and always thought and advocated for the indigenous people of the Nilgiris. He saw long before anybody else, the future of Keystone and its contribution to the Nilgiris. He was a bridge to the local community. Sam worked with all activities relating to building a market for products that are available from indigenous communities. He coordinated dealers, suppliers, greenshops and the resource center as well as coordinating enterprise, culture and people, certification and field studies.
Samraj had a Bachelor Degree in Biochemistry from Bharathiar University. He had worked in the garments industry and the stock market before moving on to working as a finance coordinator in finance and export companies. With his experience, Sam brought a rare combination of local knowledge, enterprise development and marketing ideas into Keystone and will be deeply missed at all levels. View the video here.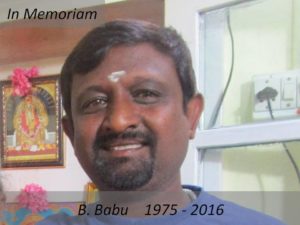 B. Babu 1975-2016
Babu, a resident of Hubbathalai village in the Nilgiris district, joined the Water Resources programme of Keystone in January 2015 and was based in Coonoor. A man who brought the richness of many working environments to Keystone, Babu had been an entrepreneur in his native village, manufacturing packaging for local food products. During his stint in Bangalore, he had worked as a structural painter with Royale Play and also managed the effluent treatment plant (ETP) in a metalworks factory. Babu relocated from Bangalore back to his native village due to family reasons. Once here, he was offered an opportunity to work with Keystone and the Water Resources programme was a natural choice given his ETP experience.
At Keystone, Babu managed the field work in Coonoor for the Water Resources programme. His responsibilities included mobilizing the community, conducting meetings to share knowledge and receive feedback, and monitoring both quality and quantity of water from the local water sources. Every weekend, Babu would return to his home in Hubbathalai where he made it a point to help his wife, Lalitha, with household chores. He was fond of music and played the dholak. He was also learning the basics of computer operations from his wife. Babu had been a district level hockey player and followed local matches closely. Babu was key in developing and sustaining rapport with communities in Coonoor and was an invaluable asset to the Water Resources team. View the video here.
.