Conserving the Sacred
The Nilgiri Biosphere Reserve is identified as being a representative of the bio geographical zone of the Western Ghats and has rich tracts of biodiversity and home to indigenous communities. The sacred groves in the reserve have had deep and ancient association with the indigenous communities. These sacred groves were considered as sacred burial grounds and place of ancestor worship. Four Sacred Groves located in the Coonoor region, namely, Doddahatti, Kavalkombei, Sengalkombei and Mavalakombei,  of the Nilgiris District falling within the CEPF Priority Investment zone, have been selected for conservation action initiative using indigenous communities of Irulas and Kurumbas and other stakeholders such as settlers, estates and Forest Department. Quality of conservation and current status of the ecology of sacred groves, using culture and traditional governance systems to revive local management regimes and Community Forest Resources approaches to redefine and place the importance of sacred groves in these fragmented landscapes. The rich biodiversity and uniqueness that are associated with sacred groves are vulnerable to change in its ecological and cultural significance. Much of this are isolated and is bound to be lost if rampant land use and resource extraction practises are not prevented. The sacred groves in this region need to be preserved and the rate of loss and undermining status of sacred groves needs to be reviewed. Restoration and monitoring of these groves needs to be looked at urgently. Under the CEPF Western Ghats Small Grants Program, this project envisages engaging the local communities that have age old associations with these sacred groves, in terms of their sacred burial sites, deities and the other cultural practices. Efforts will be made to involve the new stakeholders in the vicinity of the sacred grove like the estates, forest department and the settlers. Participatory protocols will be established to ensure that these resources are preserved and conserved. The ecological assessment that will be done in these sacred groves will give a fair understanding of the role of these sacred groves as gene pools for the forests that surround them. These activities will lead to a local monitoring mechanism within the village level institution and assess and analyze threats to cultural, social and ecological erosion. With the current Forest Right Act, the possibility of declaring these groves as Community Forest Resource could also be explored.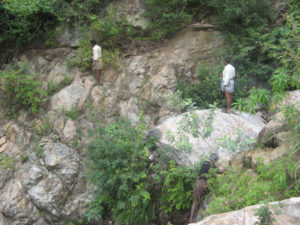 Ajile Bottu
Among the various forms of art, painting was known to be used right from the ancient cave paintings to capture the emotions & expressions. Painting is the visual documentation of man's thought and experience which can be retained for a long period. Nestled in the Nilgiris are indigenous people who survive on forest produce and worship nature. Their painting style is close to the cave paintings. The core philosophy and social history of their society is conveyed through all their paintings. Each painting is an entire scene that has various elements of nature bound by events like a dance, festival, sowing, harvesting or hunting.
Currently, this tradition is being continued by a group of young Kurumbas, named the Ajile Bottu. They use colours obtained from natural sources like resin, bark, leaves or mud and their medium varies from paper or canvas to glass and wood. This group is also involved in bamboo craft.
They started with painting greeting cards, paintings on chart paper, letterheads, book marks etc. Initially the team was trained in Chennai in screen printing with the help of the CPR Foundation.
In 2007, they were involved in the building of the Bamboo House to revive and reinvigorate the traditional knowledge and essential dwelling patterns of the Alu Kurumba community.
Regular trainings are being imparted to the young generation to keep alive this colourful tradition.
USHA Silai (Thayyal) School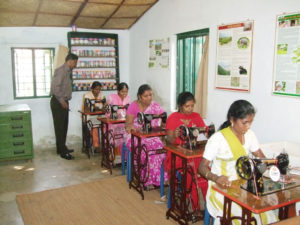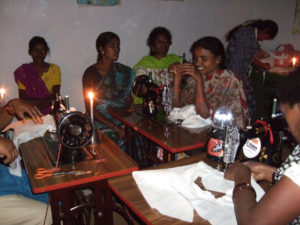 A project of Usha International Limited, the "USHA Silai School" is a school for teaching girls and women in the village to sew, to be operated and maintained by a Woman Entrepreneur using an USHA sewing machine. The project involves setting up of USHA Silai Schools in villages all over India, with a capacity to teach at least 20 women in a year, how to sew using sewing machines to be provided by UIL. The "Woman Entrepreneur" selected in each area will be the person responsible for operation and maintenance of Usha Silai School. Usha International Limited incorporated this project with the intention of reaching out to remote/non electrified villages of the country, by promoting "USHA Silai Schools" which aim to empower a village level woman entrepreneur to teach sewing to village women within the community space. Under the project Usha International Limited provides sewing machines to each Woman Entrepreneur, conducts the sewing training for them, creates the course for the sewing learners from the village, provides Sewing Machine service training and monitors the functioning of the Silai Schools. Keystone Foundation has offered Usha International Limited its services for implementation of the USHA Silai School Project in 20 villages in the Nilgiris region of Tamil Nadu as Keystone Foundation is well known for its capacity to implement projects and is willing to make use of its strong community linkages for the USHA Silai School Project. Keystone Foundation will act as the interface between Usha International Limited and the villages for the implementation of this project.
Community Radio Project
Information is power and conversely lack of information is often lack of power. Whether it is information regarding the various schemes/programmes that are available for their benefit or about their land records or about the special legal provisions for their protection, there is a whole range of issues where information denied translates into denial of rights and entitlements. Given this context a Community Radio Station holds great promise in working towards creating a level playing field for indigenous communities to participate in and determine the course of development in the NBR. There are a large number of successful CRS functioning in the country including Radio Bundelkhand, Kalanjiam Radio, Sangham Radio etc.
 The goal of the proposed project is to empower the people, particularly the tribal communities, in the NBR with a platform to voice their views and to improve the social, environmental and economic status of the indigenous communities of the Nilgiri Biosphere Reserve by enabling them to find their own voice via the medium of Community Radio.
The outputs of the project are envisaged to be,
· A well functioning Community Radio Station that is managed by members of the indigenous communities
· A set of trained indigenous people (barefoot journalists) who will play a key/central role in the success of the CRS.
· Two to three case studies of successful impact of the CRS in the lives of the communities
· A rich collection of audio and video programmes, photo and written documentation on various aspects that forms the basis of programmes for the
Running a Community Radio Station (CRS) based in Kotagiri that would be fully managed by indigenous people at all levels from content creation to production to broadcasting to day to day running of the CRS. Keystone Foundation has already applied for a CRS license late last year and is likely to get the Letter of Intent soon. Keystone is also in touch with BECIL, Bangalore for technical support in initiating the CRS. There are already a set of tribal youth who are barefoot journalists for the Seemai Sudhi newspaper. Their capacity would be built so that they can produce content for the community radio, produce video clips, disseminate information from the hubs, collect data for updating the databases at the hubs and center, access online sources of information themselves. In short, they would be examples within their communities. The content that would be aired would be focused on filling up information gaps in key areas to address the issues facing the communities. Thus it would directly contribute to improving the capacity of the communities to address the issues themselves. The radio programmes would attempt to utilise resources from within the community (such as village elders, organic farmers, healers etc.) so that the relevance to and acceptance by the people is maximum. Youth would be a special group who would be involved in the production of programmes. This would help them mobilise around issues of common concern and improve their connections to their community.
The CRS has a limited range (15 km maximum) around Kotagiri. Therefore to reach out to communities that are outside this range, narrowcasting of the CRS programmes is needed. In areas out of reach of the CRS, the programmes would be narrowcasted through a volunteer network that would locally play the programmes in their neightbourhood.
The listeners would be provided relevant and up to date information on various aspects of day-to-day need such as government forms, schemes/projects information, names and contact numbers of key government officials and other important institutions, basic legal support, link to e-services of the government etc. This would involve an exercise of collecting secondary information from various sources and translating them into the local language where necessary.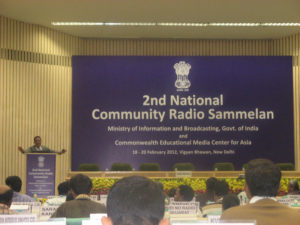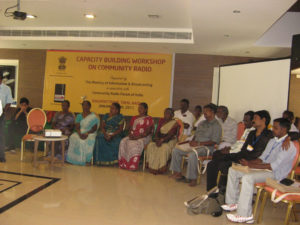 Crafts Revival Project
A crafts revival project has been undertaken among three of the Nilgiri's indigenous groups, the Kurumbas, the Kotas and the Todas. Funded by Toyota Foundation, the  aim of this project is to revive the traditional crafts of these groups which are  the major ways of expressing their cultural history.
Kurumba paintings inspired by rock art shows marriage, death, festivals, honey hunting, life in the villages etc. Artists have been identified and training is being imparted to youngsters. A resource pool for materials, further training and marketing support will be given.
Kota pottery has a unique and authentic style and is surviving in only 2 villages due to the zealous efforts of the women. In early times the Kota used a system of barter, trading pottery for food grains and other essentials with other tribes. This system no longer exists, pottery is being made solely for the ritual purposes. In a meeting organized by Keystone Foundation almost 50 women participated. Non-availability of black mud, lack of skills and machines were cited to be the major obstacles. The project will endeavour to fill these gaps as well as provide marketing support through Green shops.
In a crowd a traditionally dressed Toda is easily distinguishable because of his/her traditional covering called Puthukulli, made of thick cotton cloth uniquely embroidered with red, blue and black thread. The embroidery is so fine as to be mistaken as a pattern in weaving. Separate designs are used for death and marriage ceremonies. A resource pool for materials, training, sewing machines and marketing support are what were identified as the needs based on a survey.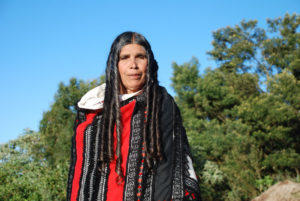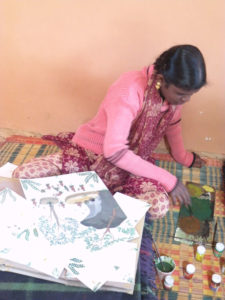 Conservation Award & Seemai Hubba
Keystone organized a Conservation Village Award and Seemai Hubba (Festival on Ancestral Domains) on 24th and 25th June 2010. Indigenous communities from places like Kotagiri, Coonoor, Sigur, Pillur, Hasanur, Punanjanur and Nilambur participated. The purpose, as seen from the title above, was 2 fold -firstly, to get communities to start thinking and acting on conservation issues in their own areas and secondly, to discuss and debate on issues relating to ancestral domains. (more…)
Introduction
The perspective of the Culture & People Group is to strengthen culture and traditions especially when indigenous people are unable to continue them. There is a growing awareness among our people on the need for keeping the traditions. Nowadays, most folks think only of their economic status while some are migrating to other places, this leads to a breakdown of the governance and village customs. Many have lost their traditional land and turned to wage work for a living. The Culture & People programme is involved in various activities such as restoration of sacred groves, conducting population surveys, documentation and conducting festivals, meetings, awareness camps. The programme also provides specific support for health, education and accessing government schemes.
The group aims to strengthen the conservation oriented lifestyle of the indigenous groups and help them to reclaim their rights over the forests; to establish the identity of each community and instill pride in their vibrant culture; ensure that indigenous communities develop abilities to deal with the modern world.
Small Steps
Keystone's new Programme area of Institutional Development & Local Governance, is progressing at the conceptual level & with a concept note on institutions, including both Keystone and village level institutions. Some initial discussions have been done with village groups to judge their initial reactions. A local group of Adivasis youth formed a group called `Ajile Bottu'. Several meetings were held with the people to highlight issues regarding local governance, which will take time to conclude. The concept of building sustainable institutions in the future includes options of producer groups, private companies/section 25A Company & with in built systems of welfare and social equity for Adivasis, especially women. This seems like a big challenge for the future for us to implement. Nevertheless, the germ of cultural revival is an issue that has taken deep roots within the organisation. Our Adivasi staff members brought into view their deep interest in the adivasi culture. A number of activities have taken place this year which will definitely influence our approach towards villagers and their attitude for us.
The main initiatives include studying traditional organizations amongst indigenous hill communities. Initiating through a participatory process, the establishment of village institutions which will manage, handle and spin-off future activities at the following levels:
Producer Groups – village production units value-adding natural resources through training and enterprise development
Farmer Groups – forest communities that traditionally collect NTFPs and are diversifying into land based activities of high value spices, and food crops
Traditional indigenous institutions – cultural activities or gathering territories, ancestral domains which bind forest communities together
Understand both the historical aspects and the present context and trends to arrive at contemporary, relevant forward-looking institutional models.