Tamil Nadu Urban Sanitation Support Programme
Sanitation and hygiene are the basic prerequisites for the development of any community. They ensure healthy life for all, which in turn becomes a social and economic concern for increasing production and promoting good life. Though India is developing rapidly, we need to realize that it is unaffordable for us to ignore the concerns of maintaining sanitation and hygiene. Sanitation conditions are worsened due to variety of factors in urban spaces such as improper disposal of domestic garbage, inappropriate disposal of industrial effluents, unsafe disposal of medical wastes, non-availability of defecating places for people staying in slums, paucity of sources of potable water for a large section of population, especially those residing in slum areas. Out of which the major issue is the management of the fecal matter in a safe and hygienic manner.
Lack of adequate sanitation poses one of the greatest barriers for Tamil Nadu in achieving her full development potential, and ensuring high standards of public health for her citizens. While sewerage and treatment plants have received policy attention and investments in larger cities of the State, on-site systems that are the predominant household arrangements across the State, have received limited attention.  Finally, Urban Local Bodies (ULBs) and other urban sector agencies have not recognized the full cycle of sanitation, especially on-site installations, as an item needing their attention. The Govt. of Tamil Nadu (GoTN) has been a pioneer in not only recognizing the above challenges as core to improved standards of public health, but also has prioritized the full sanitation chain, including the strengthening of septage management as an economical and sustainable complement to network-based systems.
OBJECTIVE
The Tamil Nadu Urban Sanitation Support Programme envisages setting up of a Technical Support Unit (TSU) in the Municipal Administration and Water Supply Department, Government of Tamil Nadu, to be the comprehensive technical arm for the MAWS-GoTN, and assist in implementation of state-level and city-level initiatives, based on agreed parameters. A consortium of organisations led by Indian Institute for Human Settlements (IIHS), and comprising Gramalaya, Keystone Foundation and CDD Society, have been commissioned to implement the program via Technical Support Units (TSU) at the State and city levels.
The State and Sub-TSUs in the two urban locations, shall provide support for planning and implementing measures for improved sanitation.  The Program components include:
Improved enabling environment and governance
Engineering and Planning
Implementation Support
Behavior Change and Communications
Enterprise Development
Capacity Building and Training
Knowledge Management
Monitoring, Learning and Evaluation
PURPOSE
In addition to GoTN's own investments in urban sanitation, the current policy environment in India prioritises urban sanitation at scale. Septage management has become eligible for funding under AMRUT, whereas Swachh Bharat Mission aims at improving access to toilets.
The Bill and Melinda Gates Foundation (BMGF) is supporting the GoTN to achieve the Sanitation Mission of Tamil Nadu by helping set up a Technical Support Unit (TSU) within the MAWS. This Unit will support the state in improving urban sanitation throughout the state and demonstrate innovations along the entire sanitation chain in two selected model urban locations (Trichy and 2 Town Panchayats of Coimbatore District).
Sub-TSUs / City-TSUs have been established in the two selected urban locations. These sub-TSUs will be a part of the State TSU and will work closely with the City Sanitation Task Force/Urban Local Body in the respective cities/towns. The sub-TSUs also have a core group of specialists in engineering, planning, social development and community mobilization, etc., who will work closely with the local body/ies.
DESCRIPTIONS OF STUDY AREA
Study area for TNUSSP project in Coimbatore district constitutes of two town panchayats – Periyanaickenpalayam (PN-Palayam) and Narasimhanaickenpalayam (NN-Palayam), situated 17 km north of Coimbatore city. The Kousika River separates the two town panchayats. On the west, is a Kurudi Hill range draining the rainwater falling on it creating a natural drainage system of a small river and streams passing through the study towns.
Figure 2‑1 Location of Town Panchayats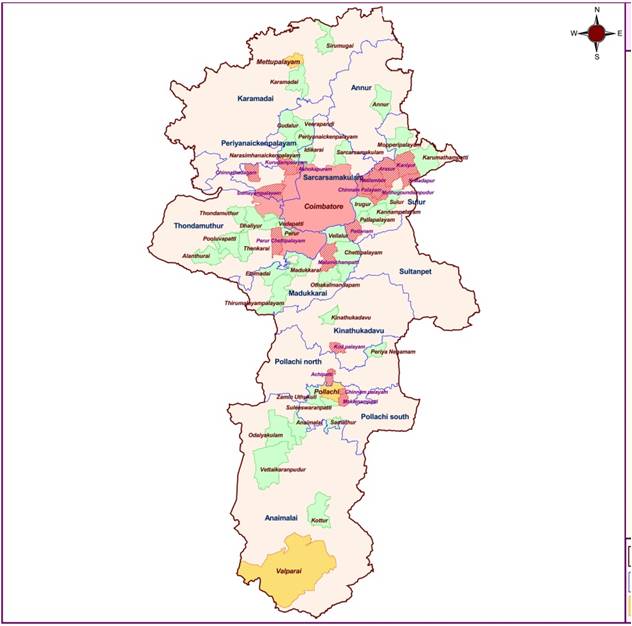 Source: Wikipedia and ULB Maps by TWAD Board
The population size of the town panchayats studied in Coimbatore ranges between 8,600 and 26,000 with an average household size of 4 which is same as that of the State average. Male literacy rates are near to the state average of 92% and female literacy is more than 80% in PN-Palayam and NN-Palayam.
The workforce participation rate in the towns is in the range of 47 to 53 percent, near to the State Urban average of 44 per cent. Male workforce participation rate stands between 65 and 70 per cent, while female workforce participation rate is in the range of 27 to 35 per cent.
As per Census 2011 data, in the study towns 7 to 12 per cent of the population lives in slums. The number of people living in them range in between 600 and 2000 across the towns. The average household size of slums in all the towns is about 4 (similar to the town's average). The economic status of all these slums vary and the poor hygiene and sanitation is prevalent.
Stakeholders to be engaged with during the project period
Panchayat president/officials
Residents of a particular geographic area
Sludge operators
SHG-PLF officials & members
/Private institution
Local Health Officials
Farmers
Builders
Hotels
NGOs/Youth clubs
CSR
Programme components include
Baseline Survey
To study the current sanitation and socio-economic conditions of the community, a baseline survey was conducted by CMS in association with Keystone. IIHS and Keystone identified the transects based on household typologies for precise results. These transects were used by CMS to proceed with the household survey in both the town panchayats. The survey results are under analysis.
PRAXIS was involved with focus group discussion with sanitary workers and people of various age groups within the community on sanitation practices. The focus group discussions were organized by Keystone. Technical support for the project was provided by IIHS. The survey has been completed.
Water sampling
Water and waste water samples were collected from various sources and sampling spots scattered across the two project areas. The spots were chosen based on the baseline survey that had been completed earlier. The samples have been sent to EnviroCare, an NABL certified laboratory, in Madurai. The results are awaited.
Mapping
Mapping of boundaries of the town panchayats, drainage systems, and roads is underway. Stakeholder identification and mapping is also in progress.
Study on Financial and Administrative Aspects of the Town Panchayats
Administrative processes such as construction approval criteria, maintenance of existing public conveniences and setting up of new ones are being recorded. Additionally, funding allocations from central and state government funds received by the panchayats are also