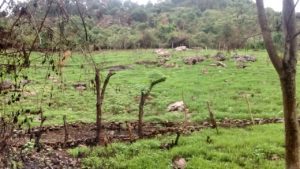 22 June 2016, Konavakkarai: In the Konavakkarai area in eastern NBR, 18 acres of farmland have been planted with millets (thenai, samai, ragi),  maize, pumpkin, mustard, amaranthus, avarai and thovarai. Under Keystone's Livelihoods programme supported by The Swallows – India Bangladesh, 20 farmers from nine villages in the area have been provided seed grain from the Samaigudal Seed Bank free of cost. Upon harvest, the farmers will be repaying the Seed Bank with twice the amount of seed that they had received. This is the first time that these villages have gone in for a focused cultivation of this intensity. For Vagapanai, one of the nine villages, this is particularly important because this land had been lying fallow or with minimal cultivation for the past 14 years.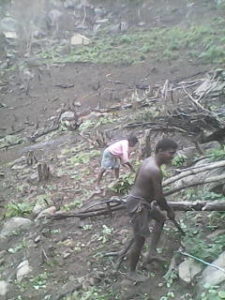 The crops planted will mature between 3-6 months ensuring there in a constant flow of food into the households as well as for market sale. Completely rainfed, the harvests begin with Amaranthus leaves in July with seeds in September, from October onwards, thenai, ragi, maize and mustard will be harvested. Pumpkin, samai, avarai, and thovarai will be harvested during the winter months. Not only do each of these plants draw from the soil, they also return different types of nutrients to the soil maintaining its fertility. This is in contrast to monoculture where acres of farmland are sown with a single variety of seed causing the land to be drained of specific nutrients. Thus, when monoculture is practiced over a number years, the fertility of the soil significantly drops.
Keystone's interventions began in the Konavakkarai area began in 2000 with the Land Development Project which had also been supported by Swallows. The farmers were given support to clear the land, build bunds and trenches, and prepare the ground for sowing. Since then, the farmers have been practicing organic farming using traditional varieties of seed.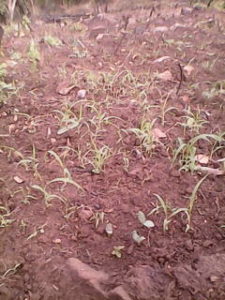 Millets were grown mostly for personal consumption, but the other crops like coffee, silkcotton and spices were processed through the Keystone production centres and sold via Green Shops. These farmers are now shareholders of Aadhimalai Pazhangudiyinar Producer Company Limited and now have access to better sale prices for their raw material as well as a share in the profits generated by the sale of finished products.
Crop depredation by elephants and gaur is one of the biggest issues faced by these farmers. While they do understand and expect small herbivores, monkeys and birds to share in the harvest, last year, they had lost crops from about 30% of the cultivated land to elephants and gaur. Today, each farmer keeps a lookout from an elevated machan or from within small makeshift huts in the field and use drums and firecrackers to try and scare away the elephants.