10 August 2016, Kotagiri: Almost a quarter of the annual income of one billion people across the world comes from NTFP. But what are NTFP and who are these people? NTFP or non-timber forest produce refers to biological produce other than timber that is gathered from forests. It could be fruits, nuts, vegetables, resins, forest honey, medicinal plants, bamboo and other grasses, and many other products. Quite obviously, only the people living in close proximity to the forests would be aware of the seasonal treasures that it offers and hence be able to harvest them. These are the indigenous communities. There are thousands of indigenous communities or tribes, as they are better known, across the world. Closer to home, India has 645 such communities and closer yet, the Nilgiris is home to more than 30 of them.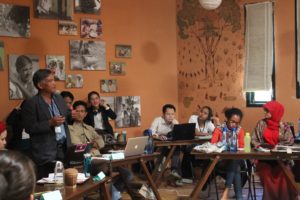 Traditionally, these communities have harvested NTFP for their own use and to barter with other villages or communities. Sometimes, small amounts would also be sold to local traders. As time went by, the way of life of tribal communities changed bringing with it a need for 'cash'. As demand from urban markets for wild products grew, the traders became more active in sourcing them. The attraction of ready cash coupled with absence of knowledge regarding the value of the NTFP that they gather made communities vulnerable to exploitation. Now, the communities are gradually becoming aware of the value of their produce and would like to move into the realm of trading and marketing through community based enterprises. But that is a whole new ball game, with systems and practices that they are strangers to. The EXCEED event in August 2016 sought to address this knowledge deficit and brought together 20 men and women working within indigenous communities in six countries of South Asia for a week long training on Managing Community Forest Enterprise Growth and Effective Marketing Strategies.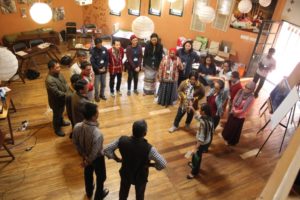 Organized by NTFP-EP, Last Forest Enterprises, Aadhimalai Pazhangudiyinar Producer Company Ltd., and Keystone Foundation, this training on Community Enterprise Consolidation, Connectivity and Green Retailing began with sessions intended to give participants an understanding of the stage that their community-based forest organisation was in. This would help them plot a course for the future, anticipate challenges and prepare for them in advance.
Community based forest enterprises are business units which trade forest products or forest services resulting in increased income, improved community wellbeing and enhanced forest ecosystem management. Such enterprises would automatically incorporate a community-based natural resource management plan which would be sustainable to ensure a healthy and diverse ecosystems to balance human needs with environmental values over an extended period of time.
There were sessions on Organisational Development, Financial Management, HR Management, Basic Marketing and the concepts of Fair Trade and Green Marketing. LFE and Aadhimalai took the participants through every step of its process sharing with them the insights gained over the years. The history, milestones and challenges that they had faced, strategies that had been employed to overcome these challenges were also explained. The thought behind the Bee Museum and how the idea of Place to Bee was born and the journey to its current position as one of the top restaurants in Ooty was spoken about in detail.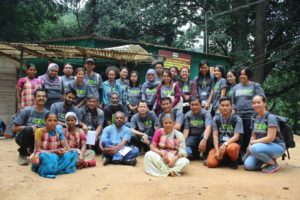 Besides the classroom sessions that were conducted, the participants had the opportunity to visit field sites to witness for themselves the implementation of all that they had been learning in theory. They visited Aadhimalai's production centre in Pudukad which had set up in space offered by a village. Having overcome several challenges including disapproval from government departments, the centre is now functioning smoothly. The women here are actively engaged in making beeswax soaps and lip balms among other products. The participants interacted with the women who demonstrated honey filtration equipment and the process of making beeswax lip balms. They also exchanged recipes on nutmeg products. The participants realized that though borders and languages may separate them, the challenges faced remain the same and there is much to be learned from each other's experience.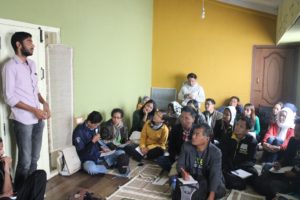 On Day 4 of the training, the group travelled to Ooty with the aim of understanding different aspects of retailing as practiced by LFE. After a sumptuous lunch at Place to Bee, the participants moved into the Green Shop where they interacted with the sales executives who explained their daily tasks and coordination between the three retail stores in Kotagiri, Ooty and Coonoor and HQ in Kotagiri. LFE's software and inventory interface and the processes related to documentation that are followed by the stores was also explained in detail.
At the end of training, replying to queries as to best practices for a enterprise, Mathew emphasized that every community-related enterprise should have a well defined core value or philosophy and take conscious action to stay true to that, despite challenges along the way; products need to be meaningful and clear about how they impact the community and environment and this should be clearly conveyed to the consumer.
The next most important factor would be the team, where the leader is able to understand their strengths and interests and utilize them for the enterprise's success. Ideally, leaders should also be flexible and open to accepting that some team members would be more efficient in a different profile.
Just like LFE, enterprises might find themselves at some point in time, in a situation where they are faced with a loss-making entity within the structure that negates the profits made by other arms. In such a case, the leadership may be called upon to make difficult decisions with the aim of cutting losses.
And last but definitely not least, Educate… the Producer, the Partner, and the Consumer! Disseminate information about the product, its benefits, its story, the people who have created it, and the direct and indirect benefits of purchasing and using it. As individuals connected with community based forest enterprises, it is our need that the public realize that the health of the forests is something that affects each one of us personally – the air we breathe, the water we drink, the food we eat. Does it get more personal than that?