2 September 2016, Manathavady: Keystone organised an exposure visit for a group of 30 organic farmers and 5 members of Keystone's Livelihoods team to Thrissilery village in Wayanad on 29th and 30th August. These 30 organic farmers from Hasanur, Aracode, Konnavakkarai, Pillur, and Sigur are also part of different PGS (Participatory Guarantee Systems) groups.
The website of PGS-India describes the Participatory Guarantee Systems as an internationally applicable organic quality assurance system [like ISO 9000] implemented and controlled by the committed organic farmer-producers through active participation, along with the consumers, in the process based on verifiable trust. It is not an "inspection raj" certification system but, rather, one that is based on personal integrity and peer pressure. Integrity is honesty when no one is looking over your shoulder to see what you are doing. The farmer pledges that the production process is free from manufactured chemicals [fertilizers, insecticides, herbicides, hormones, etc] and lives by his word of honour. The "Local Group" of five or more organic farmers is the fulcrum of the self-regulatory support system of PGS. The quality assurance standards are harmonized by the PGS Organic Council, which permits the use of its PGS label on a product as a mark of quality. More information about PGS can be had here.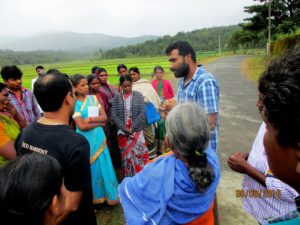 Thrissilery is a small village is in the Wayanad district of Kerala with the nearest city being Mananthavady about 10 km away. The villagers are primarily farmers and the group met with Rajesh Krishnan, an organic farmer, who took them a tour of his farm. Rajesh is a forward looking young farmer who is keen on starting a PGS group in Thrissilery. He owns 4.5 acres of farmland and has leased another 6 acres. He has also brought together 6 other farmers holding a total of about 6 acres who are interested in being part of the PGS group. This group of 7 farmers thus has a total of approximately 16 acres of farmland between them.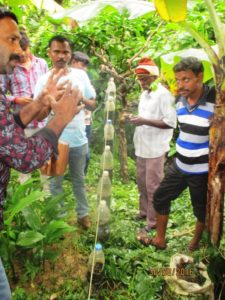 The group visited Rajesh's farm on which he was growing 18 varieties of paddy, banana, and tubers. He also had a small fish farm stocked with 3 varieties of fish which occupied 1 cent (435.6 sqft) of land. Currently, the farmers are using produce from their farms first for their own consumption, and then for the market. They sell their produce around the Thrissilery region at the regular market rate as there is not much local knowledge about or demand for organic produce. When asked about sourcing buyers from established organic markets, Rajesh replied that the quantity of organic food currently being produced is too low to interest procurement officers from organic markets. Commercial farming methods would produce a better harvest, but Rajesh and his group prefer to stay true to their commitment of going organic. Hence, Rajesh's motivation to set up a PGS group and expand it to include other farmers so that they can increase total organic output. Their first aim is to set up their own outlet and provide organic food locally starting with their own area.
This tour, which was supported by The Swallows (Sweden), was an eye-opener for the visiting farmers who had never considered the possibility that cultivating on small areas such 25 or 50 cents would be beneficial to them. Rajesh explained that this would generate enough basic main food items such as rice or millets for their own use, saving the money that they would otherwise be spending on buying these items from the market. The farmers realised that the effort needed to farm on a small plot would also be proportionately less. The group returned from the tour keen to review their farmland holdings and plan agricultural activities for small areas. The idea of establishing a small outlet locally to provide their own village and neighbouring villages with the option of healthy organic food also greatly appealed to them as they realised they would be directly contributing to the wellbeing of their communities.