"Our task must be to free ourselves by widening our circle of compassion to embrace all living creatures and the whole of nature and its beauty".
– Albert Einstein
In this busy world, even looking out of the window and admiring a bird or a freshly blossomed flower has become difficult. Without observation and awareness of another life around, it is way impossible to become compassionate and embrace other life forms. India is a paradise of biodiversity and wildlife with 104 National Parks, 544 Wildlife sanctuaries, 46 community reserves and 77 conservation reserves with 162099.47 sq km of the total area under protected areas is facing habitat destruction and wildlife deterioration. In many instances, it can be minimized and controlled.
Therefore in an attempt to sensitize people about Wildlife, Wildlife Week Celebration in the first week of October was initiated in 1952 by the Indian Board of wildlife and now National Board of Wildlife. Till date, it has been continued and with years its importance has increased. On the same note, Wildlife Week was celebrated in Sathyamangalam Tiger Reserve (STR) in a collaborated effort by Keystone Foundation and Forest Department. But the activities were confined to Germalam, Thalamalai and Hasnur ranges of STR. 
STR is a picturesque landscape with an area of 1411.6 sq km and a confluence of Western and Eastern Ghats. It is a rich treasure of flora and fauna with Elephants, Gaur, Black Buck, Four Horned Antelope, Leopard, Hyena, Wild dog, White Backed Vulture etc. The forest comprises of five types, with dominant deciduous type, evergreen and riparian vegetation adding to the diversity.
The factor that makes STR unique is the co-existence of people with wildlife and vice-versa. Irulas, Ooralis, Kurumbas and Soligas are the native tribals of the region. Other than this, there is also a flow of people to the place as tourists and continuous interaction of people with wildlife and habitat as travellers on NH 209 that traverses through the STR. This scenario calls for awareness about the fragility of the habitat and importance of wildlife.
On account of the wildlife week celebration, awareness to the travellers and involvement of the local community in the same was considered as a better start for steps ahead.  Adding to it, Keystone Foundation has a history of work with communities on aspects of Conservation and the same strength was used to celebrate wildlife week with support from Forest Department rendering a firm base.
Main events planned from Oct 2nd to Oct 8th 2018 were Photo and Poster exhibition related to wildlife, awareness by Bare Foot Ecologists on roadkills, animal feeding and plastic menace, plant distribution and posters on wildlife to selected resorts, Human-wildlife interactions- practical application in Thadasalatty village, Village elder programme in Bejalatty, Nature trail to a sacred Grove in Geddesal, Quiz competition at Keystone Field Ecology centre Sathyamangalam (KFECS).
Though the word used is Wildlife week "celebration", it was indeed a small initiative not keeping numbers in mind but an active involvement by few atleast to take things ahead. The start was a great motivation with 13 Barefoot ecologists from the Keystone Foundation working villages and 12 Anti-Poaching watchers exhibiting posters on the Dhimbam road and letting know the passing by vehicles about roadkills, plastic menace and animal feeding. TAMS (Thalavadi Adivasi Munnetra Sangam), APPCL(Aadhimalai Pazhangudiyinar Producer Company Ltd) also had a representation.  Range officer of Thalamalai accompanied the team and personally spoke to shopkeepers in the Dhimbam region to take care of plastic waste.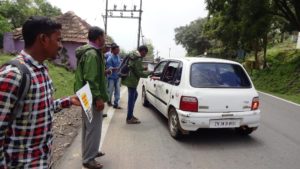 Next day the same was continued at Karepallam in Hasanur range where roadkills are noticed more. The Barefoot ecologists and Hasnur range Anti-poaching watchers took the lead. Response from the travelers was mixed to the effort, there were few who said it is a much-needed act to create awareness, and there were few who believed, imposing a penalty amount can be a stricture. There were also few who did not care and drove along without even noticing.
Third day plants were distributed to a nearby resort and posters were given to be put up. On the fourth day, in village Thadasalatty a practical demonstration was done on chilli smoke as a deterrent to human-wildlife interactions. 6 farmers participated in it and agreed to use the method in future to ward off the elephants and wild boars.
Village elder programme at Bejalatty was to be canceled due to rains and Ranganathasamy festival in Nilgiris where elders also participate from the village. Nature trail to a Sacred Grove in Geddesal was planned to Maariyamman Kovil, which is 3 km from the village. But the kids assembled were way younger in age and it would have been a risk to take them into the Forest site. Hence it was shifted to Nandi Gudi in the village periphery. After a small pooja, kids were asked to identify the tree species around and also a story of the deity was told by the Barefoot Ecologist of the village and importance of Sacred Grove in conserving biodiversity and culture was discussed at the kids level.
As the last event, a quiz was to be conducted at Keystone Field Ecology Centre, but it was held at Arepalyam School as kids from other intimated school could not turn up due to staff paucity. An hour quiz was conducted on the theme of wildlife and kids participated actively trying to tease their minds to the max.
The all week long event was a positive action towards wildlife and its habitat. The joy of working together for the same goal gave a sense of inspiration to take initiatives again and work more hard to shout for the voiceless and create awareness creatively.
By Bhavya George