A new shop was opened jointly by the members of the Ajile Bottu and the Manali Hoovu women's group. The inauguration was by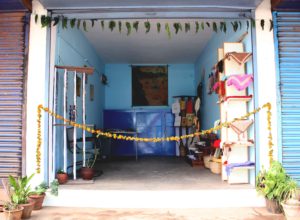 the Range Forest Officer, Kotagiri Range. Together the members of both the artisan groups are from the tribal villages of Banagudi Shola, Baviyur, Vellaricombai, Mettukkal and Kolithorai. Members of the groups are skilled in painting traditional motifs and scenes using vegetable dyes while the women's group are skilled in crochet making items both of wool as well as thread. The shop has been allocated to the groups by the Mahalir Thittam, the Women's Development Programme, Government of TN at a nominal monthly rent.
Then shop also has a variety of items including paintings and crocheted items by the group, jewellery made of forest seeds and bamboo,  traditional grain like amaranthus(keerai), small millet(saamai), gooseberry candy, honey and pickles as well as household utility items like brooms and ladles. Keystone supports the groups in product developmet and book keeping. Do visit the AJILE BOTTU shop when you are in Kotagiri. It is located opposite the old library in Ramchand Square.