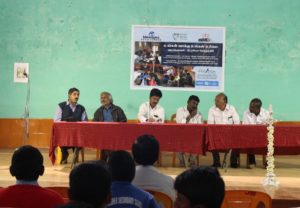 An awareness event was organized in Gandhi Maidan, Kotagiri, by Radio Kotagiri (90.4) on Friday to emphasize the importance for voting in a democracy. The event was organized with the support of Ideosync Media Combine under the FreeDem Initiative of the United Nations Democracy Fund (UNDEF).
The event was attended by over 100 students from CSI higher secondary school, PMS Matriculation School, and KPS college. The gathering was addressed by Mr. Vappu, President – Kotagiri Town Panchayat, Mr. Soundharajan, President – Naduhatty Panchayat, and Mr. Rajan, President – Blue Mountain Consumer Council, Kotagiri.
Mr. Ramu, Block Level Officer, Kotagiri, explained the voting process to the students and also led them in a rousing pledge to cast their vote consistently. Mr. Robert Leo of Keystone had an interactive session with the students where he quizzed them on their knowledge of civic structure and electoral processes.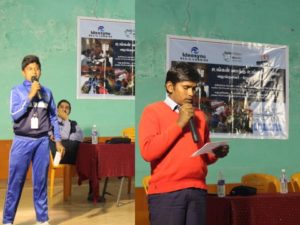 Surya and Harisudan, Std XI students attending the event, amazed the audience reciting poems that they had written during the session itself. Both poems dealt with the importance of each vote in a democracy.
Mr. N. Ramakrishnan of Ideosync Media Combine explained to the students the importance of learning about the constitution of India and understanding the rights and duties of each citizen as has been laid out therein.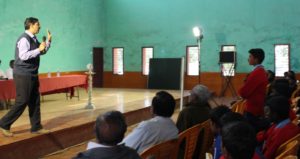 Mr. Ramakrishnan congratulated Radio Kotagiri (90.4) on its success in reaching out to the community and emphasized the importance of community radio in bringing together scattered community members. He said Ideosync's core philosophy that communities must have access to media and sees communication as a right of each individual. A lot of their work, therefore, has been focused on community media tools so that the community members can highlight their needs and express themselves freely.
Radio Kotagiri is the only community radio in the Nilgiris and is the brainchild of Keystone Foundation,  who has been working in the area for more than 20 years. The channel broadcasts at 90.4 MHz and has a reach of 15 km with a listenership
of 200 as per the survey conducted a few months ago. Set to turn 3 years old on February 16th, the radio now broadcasts a total of 7 hours every day. Listeners can call in Radio Kotagiri (90.4) on 04266-271977 with comments and suggestions on the broadcasts.