The Awareness programme on Millet Processing was held on the 16th of March in Thumbithakadu production centre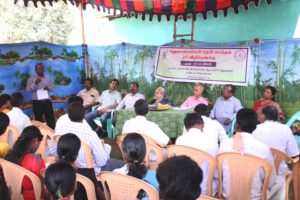 in Hasanur. There were 66 participants present in the workshop and all hailed from various communities across Sathyamangalam area. The awareness programme was organised jointly by ICAR, Central Institute of Agricultural Engineering – Bhopal, Keystone Foundation and Aadhimalai Pazhangudiyinar Producers' Company Limited in order to bring an general understanding and awareness on millets, millet processing and value addition.
Mr Leo gave a welcome note and started the programme. Dr. SJK Annamalai, Principal Scientist & Head gave a general introduction on millets – its benefits and millet processing. This was followed by speeches by Dr. S.D. Deshpande, Principal Scientist, Agricultural Produce Processing Division and – Dr. K.P. Singh, Scientist, Agricultural. Machinery Division, CIAE Bhopal. The participants were told about millet dehulling and threshing and also were given a general introduction on the machines installed at the village production centre.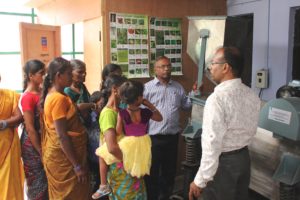 A value addition demonstration on millets was done by Dr. Saraswathy Easwaran, Founder Ramasamy Chinnammal Trust, Coimbatore & Retd. Professor, TNAU. She demonstrated different ways of using millets for making chocolates. Post lunch a demonstration of millet processing machinery was given to the participants by Dr. Dawn C.P. Ambrose, Dr. Ravindra Naik & Dr. S. Balasubramanian – IEP Scientists.
The awareness programme was concluded by Mr. Murthy, CEO Aadhimalai. The programme provided a platform to all the villagers to learn about millet processing, millet processing machinery and the importance of a millet diet.