A two day training programme was held on the Keystone campus on 30th Nov-1st Dec 2013 in which 17 representatives – 7 women and 10 men of APPC were trained in the use of computers and the software(OpenERP on Ubuntu systems). Most of them were members who work in the production.
The training is part of a 5 year hand-holding support that the Bank has committed to APPC. IN this first phase, APPC representatives have learnt the basics of computer use and the procurement module.
The Barclays Bank is supporting Keystone Foundation in a project of strengthening the Aadhimalai Pazhankudiyinar Producer Company. As a part of this initiative volunteers from the Bank have undertaken a project named Horizon to create a customized software that will enable the APPC to streamline its systems that need to be  standards compliant on the one hand and user-friendly on the other so that the people involved are empowered and are able to sustain these systems.
The key features of the system being developed are :
Friendly to women who would mostly be neo-literates

Use more of symbols than written language
Be in Tamil script rather than English to start with (In future may need Malayalam and Kannada User Interfaces as well)

Rolled out in a step by step manner so that the users are fully comfortable with one level before new features are added
Well documented with screen-shots and simple text for quick reference for the users, e.g. video documentation of how-tos
Follow the free and open source software philosophy of one software doing one thing and doing it well rather than having a bloat of features and confusing the users
Extensively tested with the user community before rolling out so that problems in day to day usage are minimized.
Aadhimalai PPCL has been formed in 2013 by Keystone Foundation in order to provide the indigenous forest produce collectors and farmers a platform for undertaking value addition and marketing of their produce on their own terms collectively and thereby improve their livelihoods in a sustainable manner. Keystone has been working on these issues over the last two decades and during the last 6-7 years has developed Production Centers in eight locations in the Nilgiri Biosphere Reserve (Asanur, Pillur, Bangalapadigai, Semmanarai, Vazhaithottam, and Pudhukad in Tamil Nadu, Nilambur in Kerala and Punanjanur in Karnataka). These centers have a combined turnover of nearly 50 lakh rupees during 2012-13. Of these, five are well developed centers and three are newly emerging.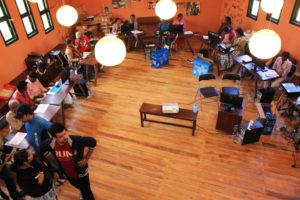 The production centers in the locations are being managed mainly by women with men from the communities playing some roles as well. The centers handle raw material procurement, value addition, packing and sales.
At present the accounts are handled across all the centers by an accountant based in Kotagiri. , who is maintaining the accounts in Tally ERP9 on Keystone's server. Because most of the women involved in the production centers are illiterate or neoliterate, they find it difficult to maintain conventional records in written form. Consequently either men are asked to do these tasks or staff from Kotagiri have to do it. One reason for this is that we have not yet developed systems for stock management etc. that are friendly for neo-literates.