Keystone has been promoting the concept of barefoot ecology in the region for some years now. Since 2012 we trained a team of 9 people from forest villages in ecological assesments which used a combination of ecological and social methods to record changes to their environment. After a year of information gathering the results were shared with various groups at the village level. We were keen to share the results and method to the forest department so a meeting was organised jointly by the Tamil Nadu Forest Department and Keystone Foundation in Coimbatore at the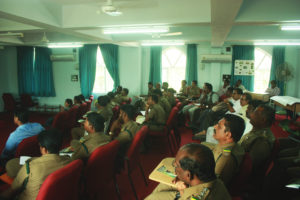 Tamil Nadu Forest Academy on the 31st of January 2015. Conservator of Forests Mr. Anwardeen IFS played an active role in organising the workshop. Around 60 staff of the department, senior officers from Erode, Sathyamangalam, Nilgiris and Coimbatore along with Range officers were present. Anita Varghese made a presentation on the methods and presented some of the results. A team of Barefoot ecologists Sanjeev Kumar from Chokkanalli, Kavita from Korapathy, Velaiyan from Kadamankombei, Sivanna from Srinivasapur -talked freely and confidently about their work of the past year to the audience. They received many questions and also displayed their results in the room. People had a chance to interact with them one to one about their work. The meeting was a success since the forest department appreciated the work of Keystone Foundation and were praise for the 'quiet conservation approach' which we have adopted as against the sensationalising conservation that was more in the news (Conservator's comments). The department is keen to take up this work in each of their divisions and has requested Keystone to take up the training immediately. Follow up work is being undertaken. The meeting was attended by Shiny, Sumin, Abishekh, Aradukuttan, Archana, Poornima and Mahadesh from Keystone. Other invitees were Drs Bhaskar Acharya, and Siddappa Setty from ATREE. Dr Kumara H from SACON and Bharatidasan from Arulagam  was also present along with representatives from WWF India.
K.R. Abhishek welcomed the group and Shiny Miriam Rehel proposed a vote of thanks. The two hour meeting was refreshing and invigorating. We met a number of trainee forest officers who in their student days were attached to our projects and had received much training from us. It was indeed good to connect with them and we hope to work closely with all of them.
We also took the opportunity to announce that Keystone Foundation is keen to start the field ecology school and will start the field botany course this year in April for the forest department. The workshop is funded by CEPF-ATREE Western Ghats Program.