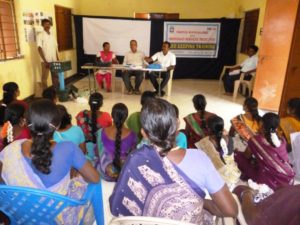 9 March 2016, Kottapetty: Keystone Foundation conducted a bee keeping training last week in Kottapetty in the Sitheri Hills in north Tamil Nadu. The training sessions continued for a week and were attended by about 120 members of local indigenous communities from Sitheri Hills and Kottapetty. This initiative was undertaken by the Srinivas Services Trust, CSR arm of TVS Motor Company, along with partner organisations under their existing programme for economic development of local indigenous communities.
Justin Raj from Keystone spoke to the attendees about different bee species and how to identify them and their hives, the importance of bees as pollinators, nutritional and medicinal benefits of honey especially for children, and bee keeping as a source of income. He briefed them regarding the practical aspects of Apis cerana indica rearing and demonstrated the tools and equipment required.  He showed them how to identify the queen bee, worker bees and drones in a colony. He also showed them the brood chamber and honey chamber and cells with larva, pupae, and pollen stores.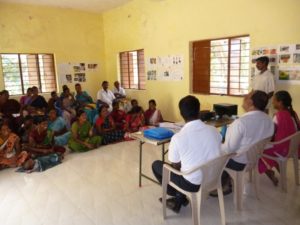 The attendees wanted to know about the process of honey extraction and this was explained by Justin using the honey extractor for demonstration. They also wanted to know about the right time for honey extraction and had a number of queries about swarming, all of which were resolved by him.
Mr. Jeyaselvan, Field Director – TVS SST, was present during the training and remarked that most woman favoured taking up bee keeping as an addition to their other activities as the bee hives could be placed near their homes. As a result, more than 95% of the attendees were women. The aim of the training was to impart a new skill set to them in order to enhance their income generation capacity. Also, since the locals mostly practice mixed cropping, growing millets, sugarcane, turmeric, paddy, along with perennials such as mango and tamarind, it made apiculture a very good choice both in terms of crop yield and income from honey and beeswax.