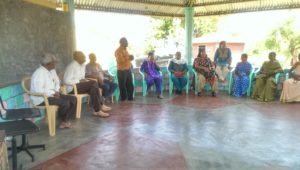 The Keystone Foundation BoT Rev.P.K. Mulley, Ms. Meena Gupta IAS and Dr Suprava Patnaik were taken on a field visit to Sathyamangalam area. Sneh, Pratim, Mathew, Leo, Moorthy, Sumin and Anita accompanied them.
We stayed at the comfortable and basic Bush and Bull Resorts at Hasanur and after lunch moved to the Aadhimalai/Thumbithakadu Production center at Hasanur. The Trustees were taken on a tour of the center where they got to see the honey and other value added products being prepared and packaged. The newly installed millet processing machinery was on display and Leo explained the role of ICAER scientists in getting these out to us.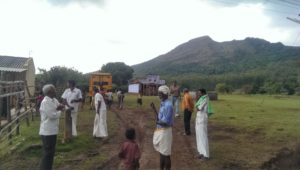 Following the tour Moorthy Sir and the local team organised an interaction with members of the producer company, ntfp harvesters, and farmers. One of the topics of much deliberation was the impact of the area being declared a Tiger Reserve and its implications for livelihoods of the local residents. The trustees were also interested in knowing in more detail the profit sharing mechanism and the role of members in the Producer Company.
Later that same evening we traveled to Geddesal village, stopping briefly at the Eucalyptus plantations to view the Apis dorsata hives. The visit to the village was cut short by a sudden downpour, we had time only to walk around the village and the meeting with the village people was interrupted by the sudden rain.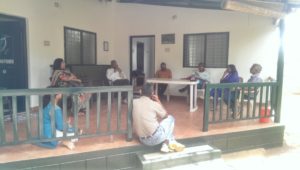 Back at Bush and Bull, Moorthy Sir made a comprehensive presentation on the formation, working and future plans of the Aadhimalai Producer Company. The questions on sustainability of the company and equity sharing were the topics of discussion.
We returned early the next morning to resume our presentations to the Trustees at Kotagiri where trustees Somnath Sen and Rita Banerji also joined in. In Kotagiri, there was presentations by all programmes and feedback from Trustees on them. Later on organisational restructuring was approved. On the final day the Trustees had a small interaction with the students from the Nilgiri Field Learning Centre.