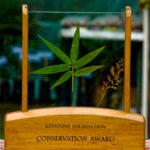 And…. the award goes to Sigur Resource Centre.
The Conservation Award has been instituted this year to pick a resource centre which wants to implement an activity which does not fall within their present project activities – an activity which shows strong conservation ethics and links up with other programme areas of the organization.
The award for 2009 was handed over to the winners by Dr. Chuck Peters, curator of the New York Botanical Gardens.
The judges for this year – Prof. Chaman Lal Gupta, Snehlata Nath & Mathew John