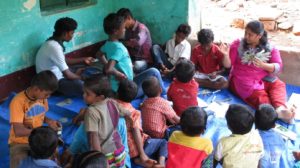 24 October 2016, Pillur:  Shiny  Rehel was in Pillur yesterday with 22 children from the Irula community. The children came from the nearby villages of Neeradi, Kil Pillur, Nellimarathur and Baralikadu. Conservation education is one of the initiatives of the Keystone's Conservation Programme and the Sunday afternoon was spent sharing information on common butterflies, their importance and the nectar plants in the Pillur area. Shiny took the children walking in the nearby areas to spot butterflies. The book, Indian Butterflies by Guna Thilagaraj, was used as a reference and species such as common Indian crow, Donald eggfly, lime butterfly, mottled emigrant, dingy lime blue, common grass yellow and common gull were identified.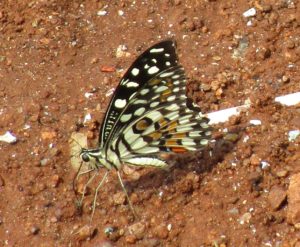 Shiny explained to the children about the life cycle from egg to caterpillar to pupa and finally to butterfly. She told them about the importance of butterflies as pollinators and about the flowering plants that are visited frequently by them, as well as behaviour such as mud puddling. Mud puddling is a phenomenon where butterflies and other insects settle onto moist soil and suck up moisture through their proboscis. The moisture contains mineral nutrients which the insects are otherwise unable to obtain.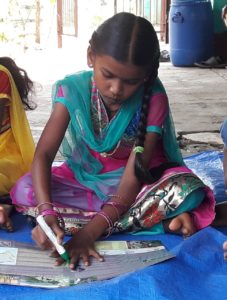 The session ended with craftwork where the children learnt how to make butterflies and caterpillars out of paper. The children were in the age group of 6 to 15 and enjoyed this activity immensely. They will be continuing to observe the butterflies with special attention to host plants where eggs are laid. This activity will be guided by Rajendran and Chandran, Keystone field assistants based in Pillur.
View the gallery here