6 April 2016, Kotagiri: Manda Arae at the Keystone Centre hosted seven participants in continued training on the Right(s) Way Forward process. The previous workshop held last month trained the participants on the first three modules of the process. Today, community facilitators from Hand in Hand and Friendship Association of Social Services (FASS) were trained on the next two modules on Analysing Environmental Degradation and A Sustainable Community in the Future. At the end of seven days of training, the community facilitators will engage with community members through a series of workshops to culminate in a Community Development Plan.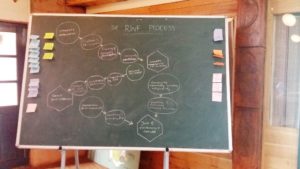 The participants undertook a Community walk in Happy Valley in Kotagiri taking notes on environmental conditions and challenges such as degraded or exploited areas as well as community conserved areas, secure and insecure areas for community members, water management and living standards, infrastructure, social and legal services such as schools, healthcare, police stations and legal aid centres. They also noted livelihoods being practiced and other economic activity in the area.
At the end of this training, the participants are able to reflect on the methods of observation and interaction used while on the community walk in the context of their own community.