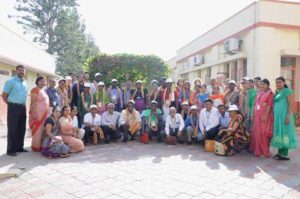 18 September 2016, Mysuru: Pratim, Selvi, Ramu, Sharanya, Pavitra and Halamal were at the Healthy Food, Healing Plants – Partnership Gathering for Cornell partners in Mysuru from 12-16 September. Organized by Vivekananda Institute for Indian Studies and Cornell University, the workshop brought in Cornell partners from Tanzania, Malawi, Dominican Republic as well as India.  The workshop aimed to foster alliances between Cornell partners on organic farming, medicinal plants and integrated medicine.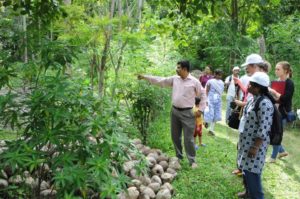 The Swamy Vivekananda Memorial Hospital (SVMH) hospital in Kenchanahalli in Mysuru district is a 15-bed primary level hospital. This hospital boasts a herbal medicinal garden within its grounds. The participants were taken for a tour of this garden and the different uses of various plants were explained.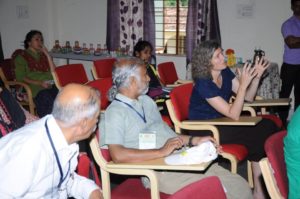 The group then visited the SVMH in Sargur which is an 80-bed secondary care hospital. At the Sargur hospital, the system of integrated medicine that was being practiced was explained. The hospital has excellent facilities for both Ayurvedic and Allopathic schools of medicine and each patient is allowed to choose the mode of treatment to be used. The disciplines discuss cases with each other and the learning process is ongoing. The SVYM also runs a community radio station called Jana Dwani, which operates out of the hospital campus. The radio station broadcasts for 14 hours each day and the programmes deal with community development. The group also visited an organic farm and the Swamy Vivekananda Youth Movement school that strives to inculcate students with the principles that Swamy Vivekananda lived by.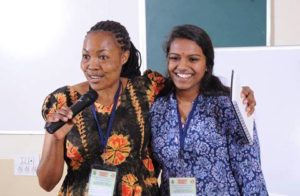 During the indoor sessions, each group spoke about their respective organisations and its activities. They also spoke about how they had benefited from the partnership with Cornell and criteria of a good partner organisation. One of the goals of the partnership meet was to locate and understand possible synergies between Cornell partners and also for Cornell itself to understand which forms of partnerships were most relevant and enriching to the project in question.
The five-day workshop sent the teams back with an alternate set of perceptions related to their fields of interest and many of them would like to look at possible collaborations in similar fields.
View the Gallery here