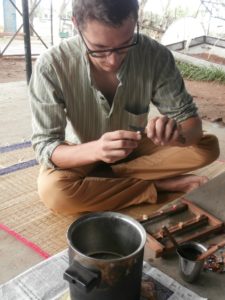 20 October 2016, Vazhaithottam: Loic Tridon, an intern from France spent eight weeks in India with Keystone developing a protocol for good queen bee rearing for apiaries and hives. Queen rearing is a natural behaviour among the bees. When the queen is old and does not emit enough pheromone, the worker bees build queen cells to prepare a new colony. The old queen and a part of the bees leave the hive to find a new environment while the new queen stays on in the old hive with the rest of the colony. For a beekeeper, it is very important to change queens at the proper time because the queen's egg laying capacity decreases after three years and hence, so does the stock of bees, the strength of the colony, and the amount of honey collected.
Loic was supported and guided by Justin Raj, Subject Manager – Apiculture, who helped him select locations and bee colonies suitable for his study. Two locations, Hasanur and Vazhaithottam, were selected and they commenced with building frames and queen cups. Loic observed that, in India, most beekeeping equipment has to be made by the beekeeper as compared to readily available equipment and instruments in Europe.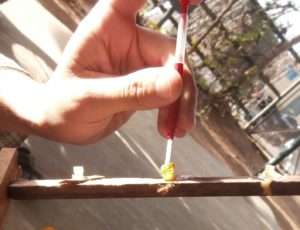 Grafting is the most common method of queen rearing and is used worldwide. Worker bee larvae are transferred from cells in the comb into queen cell cups, which are then placed in a colony that is in the right condition to convert them into queen cells. During the study, Loic grafted larvae using the single and double grafting methods. Double grafting is when the larva first introduced is replaced with a new larva on the second day. The second larva has the advantage of additional food right at the outset. Grafting was done with 1-day-old and 2-day-old larva. Best results were seen with double grafting method using 2-day-old larva.
Loic intended to use both cup frames and open brood method to graft queens, but due to time constraints was able to use only the cup method. He built a total of 149 cupules in different sizes and different internal and external diameters. Different substrates (only water, only royal jelly or water-royal jelly mixture) was used, but the results were almost the same for each substrate.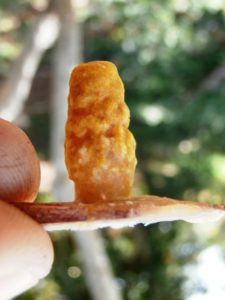 The acceptance rate in both vertical finisher (which creates a queenless space using a queen excluder device inside the hive) and queenless colonies were almost the same. Nevertheless the queenless colony method would be considered more successful. In the vertical finisher method, most of the queen cells here were found destroyed just before transfer was to take place even though they had been found capped 2-3 days earlier. There could be numerous reasons for this – diseases in the introduced larvae, pheromones released by the future queen agitates the colony, etc. Further experiments have to be carried out to verify these hypotheses.
Loic is an avid beekeeper and has been tending to bees in France for many years. He has worked with Apis mellifera which is the common species for hives in Europe. Hives in Asia are mainly populated with Apis cerana and sometimes Trigona spp (dammer bees). There has been a lot of research and experimentation with done on beekeeping with Apis mellifera, and consequently a large volume of literature and audio/video documentation is available to bee enthusiasts, both professional and laypersons.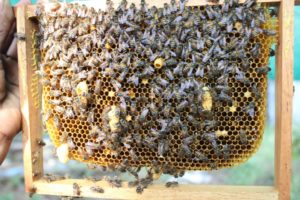 Things are not the same with Apis cerana. There is very little organised information available about beekeeping in India and efforts by individual beekeepers to increase robustness of the colony, rear healthy queens, and increase honey yield per hive are largely efforts made in isolation. Loic's work is part of Keystone's effort to fill this void in the knowledge base on beekeeping in India. After Loic's departure for France, Justin has carried on the experiments with the open brood method. He had introduced 6 queen cups into a queenless colony in Hasanur of which 4 had been accepted. Three of these queen cells have been transferred to other queenless colonies in Hasanur and Vazhaithottam centres and Justin is monitoring these colonies.