As part of the International Day ofthe World Indigenous Peoples this year, Keystone Foundation hosted a two-day festival called DodduHabba or the Gaur Festival on 8th and 9th of August 2014 in the Nilgiris in Kotagiri.
On day one, the Gaur Festival was inaugurated by the District Collector Dr. P. Sankar followed by an introduction to the theme of the festival by Robert Leo, Deputy Director, Keystone Foundation. Day two saw the inauguration of World Indigenous Peoples Day by Mr Srinivasa Reddy, Project Director, Hill Area Development Programme – Nilgiris.
The idea of a Gaur Festival was conceived from our admiration for this wild animal, with which many of us have had frequent close encounters, here in the Nilgiris. Doddu Habba will celebrate the Gaur, not only as a wild animal, but also as a symbolic representation of our co-existence with Nature.The motive behind the festival was to spread awareness on tolerance towards wildlife among the local populace. There was also traditional culinary food from the Nilgiris.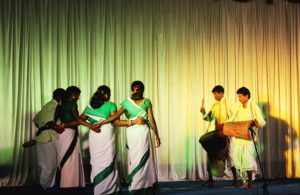 The two-day festival brought together artists, musicians, theatre artists and storytellers from the Nilgiris, Kerala, Odisha and North East India. A display titled 'Get to know the Gaur' shared information on the distribution of Gaur in the Nilgiris and the country and on how to deal with situation of encounter with the animal in towns and around.Some of the groups that performed were the  indigenous people of the Nilgiris such as the Todas, Irulas and Kurumbas, the Acoustic Traditional from Darjeeling, Karinthalakkoottam and Oorali from Trichur, and Kaananam from Attapadi. The Muramkulukki Shaman from Peechi forests with his ritual was one of the rare performances staged in the gathering.
Funding support for the festival and the Gaur information displays at the event were offered by the Hill Area Development Programme – Nilgiris, Wildlife Trust of India, CAF India and the RuffordFoundation.
The festival was a free public event and over 500 people participated, including local people, school and college children. Over 200 people from 10 indigenous communities across the Nilgiri Biosphere Reserve were a part of this celebration.