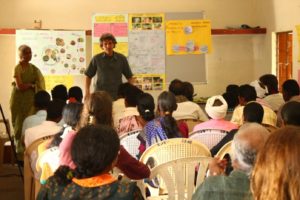 14 May 2016, Kotagiri: Nilgiri Field Learning Centre 2016 came to a close yesterday with 12 students receiving their certificates of merit. Steven Wolf, Associate Professor – Natural Resources, Cornell University was present and commended the students on the research projects they had completed. Prof Wolf said that the NFLC could be considered a meeting point of three big strategies of Cornell – Sustainability, Internationalization and Engaged Research that aims to build bridges between researchers, civil society and government actors.
The students had worked on five research topics – Water and Waste , Fallow Lands, Diet Diversity, Community Wellness,  and Gaur Trails. Except for the Gaur Trails project, all the other themes were researched upon by the batch of 2015 as well. Each of these projects resonates with the others and there have been many observations made by one project that have given other projects a better understanding of their findings. The projects were placed in different settings within the Nilgiris such as a peri-urban area, Coonoor (Water and Waste); an urban area, Kotagiri (Gaur Trails); and rural areas of Banglapadigai (Fallow Lands), Dhalamokkai (Diet Diversity), and Gumaramudi and Andhiarai (Community Wellness).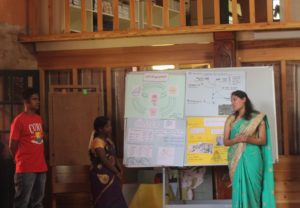 Jacqueline and Banti's project on Water and Waste in the peri-urban setting around Coonoor seeks to explore and understand the links between water used by the communities and different kinds of waste being generated, waste disposal systems, the effect of upstream settlements on downstream settlements and the impact of both on water resources. The team found that, not only were there no proper methods in place for waste disposal, but that only two out of 30 respondents were aware of waste contaminating their drinking water. They also noted that the shift to ready-to-eat foods was generating an enormous amount of waste in terms of packaging, most of which is non-biodegradable and non-recyclable. Currently, the community uses open pits for waste disposal and there is no provision to prevent leachate from reaching the groundwater. The team also found that the toilets (household and public) have open-bottomed soakpits that allow contaminants to leach through to the groundwater. Keystone's data from water quality testing done earlier from wells in Ambikapuram valley showed the presence of contaminants from both domestic waste and landfills as well as from fertilizers used in surrounding farms. Local communities in the Nilgiris have always appreciated the value of water and built mechanisms for protection of water sources into their culture. For example, in Chinna Hubbathalai, the spring box in the village is housed opposite the temple within a structure closely resembling a shrine, ensuring that the surroundings are kept clean. Water is filled at community taps and carried back to the houses. The common tap thus becomes a focal point for social interaction mainitaining bonds within the community. Because of the effort involved in gathering enough water for household needs, there is a great deal of thrift involved in usage and kitchen waste water is often recycled to water the small patches of garden maintained by the householder.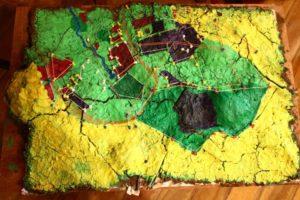 The research project, Gaur Trails, conducted by Subin and Rachel in Kotagiri builds on the conservation team's work of mapping gaur movement in the area around the Keystone campus. This year, Subin and Rachel mapped the presence of physical barriers (fences) to gaur movement and analysed data to understand the percentage of population who perceived the gaur as a threat and why. During the course of the study, they realized that most people understood and accepted that gaur entering human habitations is primarily because humans had encroached theirs. There was therefore a high degree of tolerance. But, at the same time, they were unhappy about the inability to maintain vegetable patches or kitchen gardens because of gaur. During the survey conducted, one-third of the respondents said that they had put up fences to prevent gaur moving in, although 71% of those fences had been damaged more than once.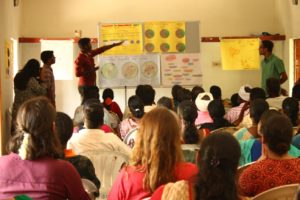 While studying Fallow Lands around Banglapadigai valley, Rabin, Manikandan and Kannan realized that movement of wildlife, especially elephants, was one of the reasons accounting for the high percentage of unused land in these villages. These lands had earlier been under millet cultivation and each village was scattered over a large area. With the government-funded cluster housing coming into being, the village limits shrank. Simultaneously, the increasing attraction of daily wage work outside the village and the lack of opportunities for higher education locally began the trend of young people migrating outwards. Millet cultivation, being labour-intensive as well as requiring social cohesion, thus suffered from the loss of manpower, and more and more crop land started to be left barren. As the forest took over the fallow lands, elephants started to move through it, further dissuading villagers from considering using the land.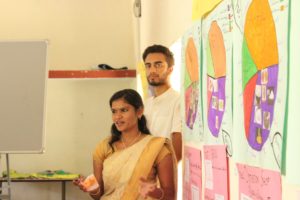 As agriculture reduced, the villagers' dependence on local markets and public distribution systems increased, directly affecting Diet Diversity. Sinan and Thulasi studied this aspect of village life asking the basic question, "Does more food on the plate translate into a healthy diet?" They spoke to villagers in Dhalamokkai and identified sources of food. These are the local markets, Public Distribution System (PDS), local shops within the village and the forest itself. Although 70% of the food consumed by the community comes from the local markets, the villagers did not consider the vegetables and fruits healthy because of the presence of fertilizers and pesticides and 75% of the respondents felt it was healthier to grow their own food in kitchen gardens. They cited reasons such as lack of manpower and capital, crop depredation by animals, and scarcity of water during summer for not being able to do so.  PDS gives them access to cereals such as rice and wheat at subsidised rates, but this has far less nutritional value as compared to millets which used to be traditionally cultivated in their fields. The indigenous communities have always gathered seasonal Non-Timber Forest Produce (NTFP) to supplement their diet, but now they cite reasons such as fatigue and threat of encounters with wildlife to avoid going into the forest. They also say it is just easier to go to the local shop and purchase ready-to-eat snacks, which are quite popular with children in the household. Currently, only 8% of food is directly sourced from the forest.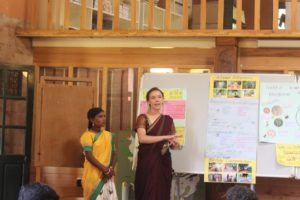 Wynn and Shanthi's project in Gumaramudi and Andhiarai on Community Wellness builds on the 2015 NFLC project on Cultural Curative Care. Using an ethnographic approach as opposed to generating statistical data, the project attempts to understand the community's perspective on the link between food and health, their health seeking behaviour and their faith in traditional healers. During the conversations with the community, the team was able to understand that while traditionally food itself was considered medicine, today the two are being perceived as distinct from each other. There were a number of reasons brought out for this distinction, not the least of which being the onslaught of popular media promoting packaged foods. This has led to the younger generation no longer preferring traditional foods, which used to be considered medicines for minor ailments. Also, the people are themselves aware of the difference in nutritional value between millets and rice and the effects of market-bought vegetable and fruits grown with pesticides and fertilizers. This awareness is not the result of medical tests but through the knowledge of their own body systems. The villages said that they now suffer frequently from fatigue, bodyaches, and headaches which was not the case before. An elderly respondent in Gumaramudi village summed up the situation, "Now we eat what others grow and we live to be 50. When we grew our own food, we lived to be 100!"
The migration of young people to the plains in search of a better life has left a number of villages populated largely by the very old and the very young. Unable to grow their traditional foods, at a loss about dealing with contamination of the food they eat and water they drink, fearing negative interactions with wildlife, emotionally isolated despite rapid urbanisation, and unable to identify the forest as a friend or a foe – indigenous communities today are making choices that many of them wish they did not have to make. While turning the clock back is impossible, what is possible is that initiatives like the Nilgiri Field Learning Centre can help bring scientific and indigenous knowledge together to help stakeholders take decisions that are in the best interests of the indigenous communities and the environment. As Pratim Roy, Founder-Director – Keystone Foundation said during the convocation, "NFLC is work in progress. Where we go from here is up to us."