Community Forest Rights (CFR's) is a privilege provided by the Forest Rights Act, 2006 for the entire Tribal community residing in the village. It provides the community the legal rights to access the forest land which they have been using for generations without restrictions and scrutiny as far as it is being used sustainably for their livelihood purposes. This includes the collection of NTFP's, firewood, tubers, medicinal plants and so on.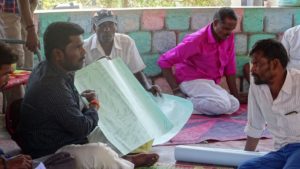 On 22nd February, a meeting with the community members was held at Hasanur, Erode District. The meeting saw the participation of community heads from 13 villages; located in the Hasanur and Thalavadi Panchayat. Many members residing in these 13 villages have received Individual Forest Rights (IFR) titles, which is- title for the piece of land they have built their house on. On acquiring this title they are guaranteed shelter but not with livelihood options and food security, for which, they entirely depend on the resources present in the surrounding forests. According to the status of implementation of the FRA published in 2017 by the Ministry of Tribal Affairs, 3,361 CFR claims have been submitted in Tamil Nadu out of which not a single one has been processed to date.
All the 13 villages are located in the Sathyamangalam Tiger Reserve, which makes it even more complicated for these communities to obtain their rights. Many members at the meeting raised the concern of being misquoted about the provisions of the FRA by the Forest Department.  Although the FRA is applicable in National Parks, Wildlife Sanctuaries, and Tiger Reserves, as is apparent from the definition of 'forest land' under Section 2 (d) which describes forest land as "land of any description falling within any forest area and includes……Sanctuaries and National Parks". They continue to use forest and wildlife offences provisions to chastise the communities, whose members are often charged with unauthorized use of forest resources.
The provision in FRA recognises that forest dwellers should be involved in sustainable development, conservation of biodiversity and maintenance of the ecological balance as they have a vast traditional knowledge of such practices. Recently the National Commission for Scheduled Tribes (NCST) has accused the National Tiger Conservation Authority's circulated letter stating that the tribals have no right to their lands in a critical tiger habitat. The NCST has banned the eviction of tribals in tiger reserves and has asked the Ministry of Environment and Forest to investigate this matter.  Back in 2015, the Sholiga tribes in the Biligirirranga Tiger Reserve have proved that tribals are better conservationists as there has been an increase in the number of tigers in this reserve.
In March, a series of meeting will be held with the village members residing in the Hasanur region through which we will facilitate and ensure that these communities are being assertive in claiming their legal rights as stated in the FRA.