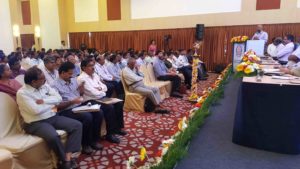 In addition to the Government of Tamil Nadu's own investment in Urban sanitation, The Bill and Melinda Gates Foundation (BMGF ) is supporting to achieve the sanitation mission of Tamil Nadu, by entering into a Memorandum of Understanding with the Municipal Administration and Water Supply Department (MAWS). The official launch of the "Tamil Urban Sanitation Support Program" – TNUSSP headed by Mr. Velumani, Hon'ble Minister for Municipal Administration, Rural Development, Law, Courts and Prisons, Government of Tamil Nadu.
It was followed by the workshop with sessions of the issues , innovations and best practices on Urban sanitation in Tamil Nadu, explained by  dignitaries from various government, non- government and private sectors. Finally there were various break-out session with themes like –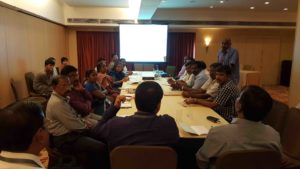 a.       Community and Public Toilets
b.      Laws and Regulations for Improving Urban Sanitation.
c.       Behavior Change and Communication
d.      Septage management Technology and Management options.
e.       Discussion with Sludge Operators.
The group comprised of people from the government, non- government organizations and private sectors with moderators from the organizing team, to come up with  ideas on the project. The major part of this project is going to be the setting up of Technical Support Unit (TSU) at state level, in the MAWS department. The TSU's are going to be under the guidance of the Principal Secretary  at state level, accountable to the Advisory Committee(AC), chaired by the Principal Secretary (MAWS). The sub TSU's are to be at the selected urban locations for the project. These sub TSU's would work closely with the City Sanitation Task Force/Urban Local Bodies in the respective cities/towns.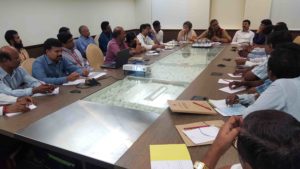 A consortium of organizations led by the Indian Institute for Human Settlements (IIHS),  have been commissioned to implement the program via TSU's at the state and city levels. Keystone Foundation is to lead, the prescribed  urban localities, Periyanayakanpalayam and Narasimanayakanpalayam Town Panchayat's in Coimbatore. We would provide support for the improved sanitation via a set of 9 program components designed, in a due time of two years (Nov 2015-Oct 2017). Major tasks are to come up with a study on the sanitation status of the localities, baseline study, understanding their needs and providing them with useful long-term solutions by implementation of sub-TSU's, improving their health and sanitation status.Also, there is an expectation of building up a Driving force for implementation of sanitation innovations in the future, as an achievement.