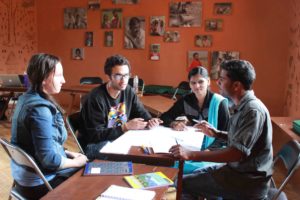 Keystone is hosting the Nilgiri Field Learning Centre (NFLC) 2016 batch of 6 Cornell students and 7 students from different tribal communities in the area have just completed their first week of experiential learning. Kickstarting with Cross-Boundary Exercises which served as ice breaker sessions, the week moved on to see intensive classroom sessions on the subjects of Sustainable Development and Ecology, anchored by Prof. Steven Wolf and Anita Verghese respectively.
Afternoons were devoted to excursions and experiments in the field. The students visited Banagudi Shola (a sacred grove) and Happy Valley, besides conducting experiments on the hillsides surrounding the Keystone campus.
Sessions were conducted by Anita Verghese, Shiny Rehel, Sumin George Thomas and K. R. Abhishek from Keystone. Guest lecturers, Manju Vasudevan and Madhu Ramnath spoke on a number of issues drawing on their field experience.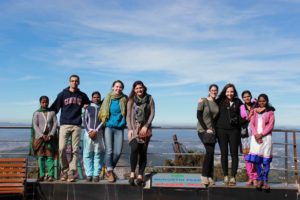 Week #2 of NFLC 2016 focuses on Livelihoods in Transition followed by an understanding of Markets and Social Enterprises. These sessions will be anchored by Archana Sivaramakrishnan and Mathew John.
The Nilgiri Field Learning Centre is a partnership between Keystone Foundation and Cornell University, Ithaca, New York offering Cornelians a chance to earn 12-15 credits during the semester-long program every spring. The modules help students develop research, field work, analytical, and presentation skills. Field work focuses on ecosystems, health, nutrition, and waste management. Click on the link for more information on the program. https://blogs.cornell.edu/nflc/