Coonoor
On 21st July, Grama Sabha level committee meeting took place at Sembukarai (A Kurumba settlement) in Coonoor. This is the first attempt that the community has made to claim their rights under the Forest Rights Act, 2006. Revenue Divisional Officer, Forest Ranger, Village officer, Revenue inspector and members from the panchayat were all present at the meeting.
Altogether 41 Individual Forest Right claims (IFRs) were submitted to the Sub-district level committee (SDLC) for review. The claims are mainly for their houses and small agriculture land where they grow their vegetables for personal consumption.
Kotagiri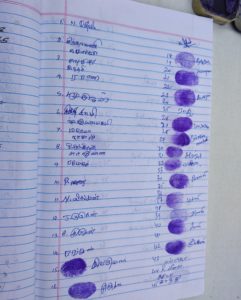 At Pambarai and Selarai (Irulas & Kurumba settlements) villages located in the Aracode region, previously 34 IFRs forms were submitted to the SDLC. Out of those forms, 23 had been reviewed by the SDLC, District Level Committee (DLC) and approved by the District Collector. To re-submit the remaining 11 forms that were rejected, a meeting was held during which a resolution was passed in the presence of the grama sabha members. All members agreed that the claims were legit. The reason for rejection in the first attempt was because the panchayat name mentioned in the submitted form differed from the one mentioned on the claiming individual's ration card.
The forms were re-sent, reviewed by the SDLC & DLC and have been passed on to the District administration for approval. By the end next month these 11 individual claims will be sanctioned.