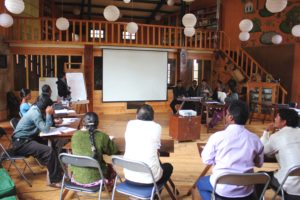 Keystone hosted a two days national workshop (5th and 6th January 2015) on grievance redressal and awareness on the The Scheduled Tribes and Other Traditional Forest Dwellers (Recognition of Forest Rights) Act, also known as the FRA part of the gender and human rights programme. As part of the workshop participants from nine organisation across the country, such as, VRDS  from Cuddappa, Sakhi from Bellari,  Sanjeevini , Adivasimitra, Sujana, Velugu Association and GVS from Vishakhapatnam, Marg Darshak from Chattisgarh and Prithvi from Panna, Madhya Pradesh.
Along with Keystone, Bhaanumathi from Dhaatri, Vishakhapatnam and Rahul Choudhary from Legal Initiative for Forest and Environment (LIFE) partner for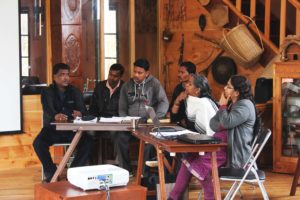 the same project were present for the workshop which spoke of mainly the Right to Information act (RTI) and the National Green Tribunal (NGT), two main acts support the accessibility of information and the redressal of environmental issues respectively in a big way. The FRA workshop too clarified many doubts and opened up options to tackle the issues related to forest rights amongst all the organisations present there.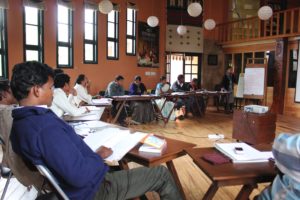 The workshop provided a platform for all the organisation working for the Gender and Human Rights project to congregate, share experiences and learn from each other.  It was successfully concluded with the all the participants having enjoyed the whole stay and learning.