September 18th  is established as Water Monitoring Day – an annual program that's observed all over the world. The aim is to build public awareness and involvement in protecting water bodies by empowering citizens to carry out basic monitoring of their local bodies.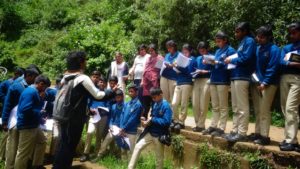 To mark this day we conducted an outreach educational programme with a very enthusiastic group of 9th & 11th standard students from International Community School, Kotagiri. Few members from Kotagiri Citizens group also were present at the occasion.
We took the students to a spring source in the town to show them the different ways a spring becomes prone to contamination due to negligence. Afterwards, we took them to Happy Valley to see the importance of protecting a spring source and the benefits the community reaps from it. They were keen to know about the basic ways of monitoring water. We encouraged them to begin by monitoring their own water sources at home using simple methods. They learnt how to check the quality and quantity of water from a well or spring source.
This was followed by distribution of study materials related to water resources developed by Keystone to help them comprehend the concept. We gave them bottles to collect water samples to check for faecal contamination and also taught them the simple process of carrying out these tests.
By Thanvish Vishnu ( Field Coordinator – Water programme)