On the 19th of January 2018, K.C. Karuppannan – Minister for Environment ( Government of Tamil Nadu) visited and inaugurated the production center situated in Hasanur, Erode District. This production center was granted to Aadhimalai Pazhangidiyinar Producer Company – an allied organisation of Keystone Foundation; by the Rural Development & Panchayat Raj Department of Tamil Nadu. The building was handed over to us in July 2017 and production began in the month of November 2017. It was granted under the State Balanced Growth Fund (SBGF) introduced by the State Planning Commission.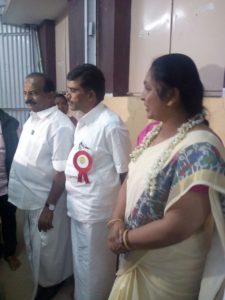 The idea behind this was to strengthen marketing for agriculture produce & Non-timber forest produce in rural areas. Millet agriculture is a traditional practice in this region. With large forest area available, NTFP collection is said to be high in this region compared to other regions of Tamil Nadu.  The various pieces of machinery required for the process of production were donated under the Agriculture Marketing Infrastructure (AIM)  Scheme.
Earlier this week, a formal inauguration took place in the presence of the minister. Currently, there are ten  Irula tribal people – shareholders of Aadhimali; utilizing the infrastructure. Numerous Products such as Forest Amala, Silk Cotton, Shikakai, Spices & Millets etc; are being processed and value added here.