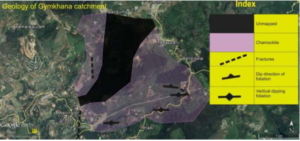 4 March 2016, Coonoor: Keystone Foundation and Advanced Center for Water Resources Development and Management (ACWADAM) have completed a hydrogeological survey of three catchments, which provide water to Coonoor town. Coonoor in the south Indian state of Tamil Nadu is an urban center that is a popular tourist destination in the Nilgiris. It has upto 2.5 Million tourists passing through in a year, compared to a local population of approximately 45,000 people and a floating population of upto 15,000. The Coonoor Municipality is responsible for providing safe and sufficient water for drinking and other domestic and commercial use to all the inhabitants as well as institutions in the town. According to the Municipality, it is providing 90 Litres Per Day (LPD) per person to the local population when water is available in plenty, and around 43 LPD once in five days during the summer.
This supply of water is directly dependent on the state of the water resources that the Coonoor town is tapping. The study covered the Guerency and Gymkhana catchment areas and the Ambikapuram Valley near Coonoor. A report of the study can be accessed here.
Supported by Critical Ecosystem Partnership Fund (CEPF) and with technical expertise provided by ACWADAM), the project identified recharge areas for springs and sought to understand the relationship between aquifers, springs and other water sources in the region and is the first step towards aquifer management in the Nilgiris. An aquifer is an underground layer of water-bearing permeable rock, rock fractures or unconsolidated materials (gravel, sand, or silt) that yields groundwater.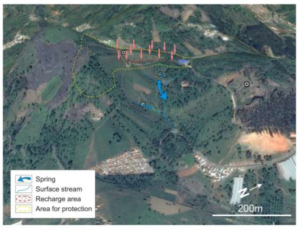 Though the popular association of the Nilgiris is with its rich endowment of streams and waterfalls, these surface water sources are fed by perennial springs which in turn are tapping groundwater from numerous localized aquifers. The rapidly increasing number of open wells in the catchment areas is resulting in increased extraction of groundwater from the same aquifers that are responsible for feeding perennial springs.
There is, thus, an urgent need to understand the groundwater and surface water dynamics so that precious water resources can be managed sustainably.