Keystone Foundation's NRM programme, partly supported by SDC/IC NGO programme has 4 main facets – forest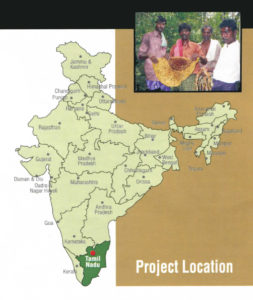 based livelihoods, biodiversity conservation, water resource management and reviving traditional agriculture systems. The NRM programme was initiated in 1995 in the Nilgiris Biosphere Reserve (NBR) and works with 6 different indigenous communities (henceforth 'Adivasis'). The objectives of this ongoing programme are –
To improve livelihoods of Adivasi communities of the NBR, particularly the honey hunters and collectors of Non-Timber Forest Produce (NTFP).
To conserve forest biodiversity through ecological monitoring of NTFP, sustainable harvesting systems and technology, trade and value addition.
To study communities and their water management systems in hill areas and implement small drinking water projects.
Conduct research and revive traditional agriculture systems towards improved food security and household nutrition of the indigenous communities.