1 April 2016, Kotagiri: The International Day of Happiness was celebrated at Keystone Foundation today. Although the date of celebration (April 1st) did raise a few doubtful eyebrows, the staff gamely came forward to fill the blackboard at the canteen with good wishes for their colleagues in Keystone.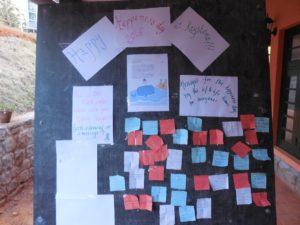 Since 2013, the United Nations has been celebrating the International Day of Happiness on March 20th as a way to recognise the importance of happiness in the lives of people around the world. As the UN website says, "It's a day to be happy, of course!", but on a serious note, the UN has launched 17 Sustainable Development Goals in January this year that seek to end poverty, reduce inequality, and protect our planet – three key aspects that lead to well-being and happiness.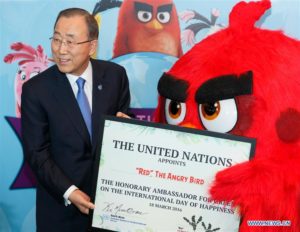 The theme for 2016 is Climate Action for a Happy Planet and focuses on the relationship between a healthy planet and our happiness. This year, even cartoon characters have joined in as the United Nations teams up with a group famous for lacking good cheer: the 'Angry Birds' and 'Red' is the honorary ambassador for Green on the International Day of Happiness. This year, you can make the Angry Birds happy by recycling, taking public transport and conserving water. Individuals can share tips, photographs and commitments on living sustainably and happily in their everyday lives on social media platforms using the common hashtag #AngryBirdsHappyPlanet.
At Keystone, we are actively engaged in bringing the goal of a 'Happy Planet' alive through our projects on conservation, sustainable livelihoods, water resources, indigenous peoples programme and community radio in more than 140 villages scattered across the Nilgiri Biosphere Reserve. Closer to home, the smiles and laughter on campus after the tea break today highlighted how a small effort can go a long way in celebrating a team that enjoys working together – A happy day indeed!