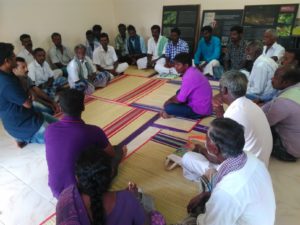 10 October 2016, Arepalyam: The newly established Field Ecology Centre at Arepalayam played host to 26 leaders of Forest Rights Committees from 13 settlements in Hasanur on October 8th. They were there to attend a training on the Forest Rights Act. Mahadesh introduced the session and Ramu of the Livelihoods team was one of the resource persons. Siruvadivelu, a volunteer in Hasanur, is doing a survey to understand the status of FRA implementation in the area and he explained the current situation to the participants.
Madevi, a welfare worker with Thalavadi Adivasi Munnetra Sangham (TAMS), shared her experiences in different Indian states regarding FRA implementation. The participants, all presidents and secretaries of FRCs, voiced their main concern openly. They said that they were uncertain about how successfully they would be able to claim their rights given that much of the area in question was part of India's newest protected area – Sathyamangalam Tiger Reserve.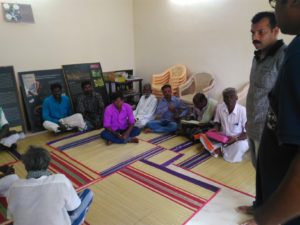 Drawing  on his experience working with the communities, Ramu suggested that a platform be created where the FRC members could meet regularly, discuss challenges and issues as they arose. They would also be able to share progress regarding claim submission and processing as they occurred. Such a platform would give the FRC leaders the support that they required to convince villagers to put forward their claims. Possibility of conducting a campaign within the community to strengthen their will was also discussed.
Starting with this meeting, the team intends to conduct monthly meetings for this group. Three local volunteers have been recruited to help mobilize the villagers. Indigenous communities who have been living for centuries in harmony with the environment are perhaps the best guardians that the forests can have. We hope that the community in this area will soon be working to claim their rights under the Forest Rights Act and actively participating in community-based conservation initiatives.