On January 3rd, 4th  & 5th   the HR committee which comprises of members from all three institutions – Keystone Foundation, Last Forest, Aadhimalai Pazhangudiyinar; and Hema Shekar – an HR Consultant for Keystone brought together all staff from the Keystone family to partake in a retreat.   The achievements of an organisation are the results of the collective effort of every individual, which is the truth in the context of Keystone. The retreat gave many of us the opportunity to associate with people who we see and know of, but would've barely had a conversation with them other than the general greetings. It opened the door to unreserved conversations, new friendships and a sea of perspectives. A sense of openness prevailed for people to share and learn from one and other.
The first session began by sundown on the 3rd of January.  All assembled at Mandarae (meeting hall) as they were asked to. A room filled with puzzled, inquisitive people and a few of those who were still basking in the vacation frame of mind. Hema Shekar took charge of the evening session. The intention of the first session was to smooth the path for the rest of the days. After a few interactive sessions, we were split into groups – with whom we were to spend time with for most of the forthcoming sessions. Each group had an anchor to facilitate the proceedings.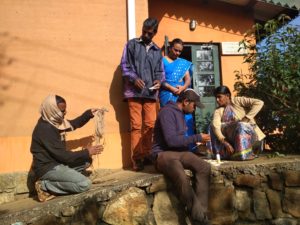 Despite the numbing winter weather, all were ready the next day to engage with their group and participate in the planned activities. Every activity was constructed in such a way as to indicate the crucial aspects that are required to work as a group and at the same time to show how it is necessary to be open to contrasting perspectives. One session that set things at ease was the one in which we had to illustrate our life through drawings. One memorable moment during this session was when 'Hari' (campus in-charge) – as we all know him revealed that his name was infact 'Hira'. He casually said '17 years back when I joined the organization,  Pratim sir misheard my name, so I  let it remain that way'. Some of the other interesting sessions had tasks in which we had to work in groups either to invent or to enact the idea.
Another memorable session was when groups were given the task to develop a model to efficiently manage the monkey menace which is a real problem on our campus. Later each group presented their model to the others. But we are yet to implement those ideas to check if any of it will actually bring a halt to the havoc. These group sessions made us realize how 'we' can be much more effective than 'me'.
One participant said 'she always speaks to colleagues who work in her section at Last Forest, but now, the retreat has helped her connect with people whom she never ever had a conversation with'.
The three-day retreat was not only to relieve us from the work that we do but on top of that, it helped us reevaluate our goals and gave us a brand new lens to see through. It gave us the chance to take inspiration from people's everyday lives. It definitely refreshed minds, gave birth to new bonds, enriched our way of thinking, and it certainly did reveal the humorous side of many. Ultimately, it helped us articulate the core values present in the Keystone family of institutions and the ones we want to see strengthened further.