11 March 2016, Pampanga: Clark Free Zone in Pampanga, Philippines played host to more than 1000 participants of the Asia Pacific Forestry Week 2016 in February. The participants included members from the scientific community, indigenous communities, social welfare organizations, and government officials from southeast Asian countries. This recurring event, conducted by the Food and Agriculture Organization of the United Nations (FAO) and its partners, is a platform for people interested in, and committed to, sustainable forest management in Asia and the Pacific. The theme of Asia-Pacific Forestry Week 2016, Growing Our Future!, was intended to encourage participants to chart new pathways that guide the development of forestry into the future.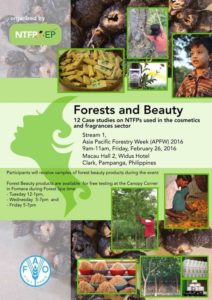 Keystone Foundation was invited to present a case study on the theme of 'Forest and Beauty' and Shiny Rehel presented a case study on Sapindus emarginata (Indian soapberry). The use of Sapindus fruit has been described in ancient Indian texts and is still quite popular today. The liquid extract of Sapindus berries have been used as shampoo and for treatment of dandruff. Used as a face wash, it is known to remove skin blemishes such as freckles and tan. Sapindus is one of the non timber forest produce collected by the indigenous communities and an estimated quantity of 1.94 tons of product in dried or powdered form was exported from India in the last financial year.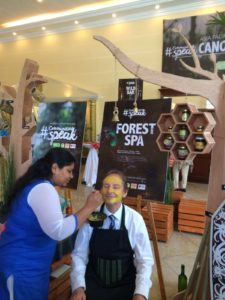 Replying to questions about benefits to the indigenous community, Shiny explained that lack of processing facilities, regular supply, quality control, storage, packaging and inadequate marketing strategies in addition to the fluctuating market prices are some of the challenges faced by the community. Besides this, bulk marketing of the crude produce fetches a very low price. Therefore, value addition to the crude harvest of this species at the collectors' level would increase its price in the market thereby increasing benefits to the community.
Forest Spa: Natural products have been used for centuries to enhance beauty and wellness before they were replaced by mass-produced chemical-based cosmetics. Today, the growing realization of the benefits of forest products have again brought traditional beauty treatments to the fore and the APFF2016 featured the 'Forest Spa' where some of these treatments were showcased for participants to experience.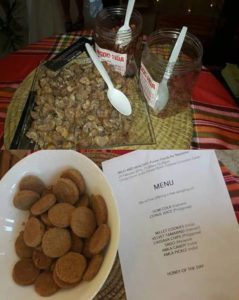 From India, Forest Spa saw the practical application of Curcuma aromatica (wild turmeric) powder which is used in several home remedies and skin care preparations with milk, honey and sandalwood powder and has proven antiseptic properties. There was a tremendous response among the participants to the wild turmeric and chickpea face pack with people feeling relaxed and refreshed after the application.
Wild Food: Non-Timber Forest Produce-Exchange Program (NTFP-EP) had a display of posters with information on NTFP products that are commonly used by communities which are now finding a market among the general public who are aware of their benefits.  There was a wild foods corner serving pickles from India, sago chips, a coconut milk and peanut butter dip from Cambodia, millet biscuits, and gooseberry candy, all washed down with a variety of teas (basil, lemongrass), gum cola, and citrus juice.