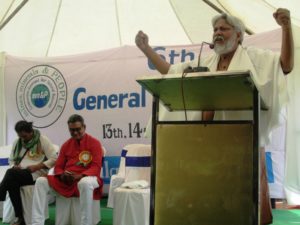 17 May 2017, Kotagiri: Keystone hosted the 6th General Assembly of Mines Minerals and People (mm&P) from 13th-15th May. The meeting was chaired by Ravi Rebbapragada, Chairperson and Ashok Shrimali, Secretary General. The meeting was inaugurated by Dr. Rajendra Singh, celebrated water activist from Rajasthan. mm&P (mines, minerals & PEOPLE) is a growing alliance of individuals, institutions and communities who are concerned and affected by mining. The isolated struggles of different groups led them to form themselves into a broad national alliance for combating the socially, culturally and environmentally destructive nature of mining.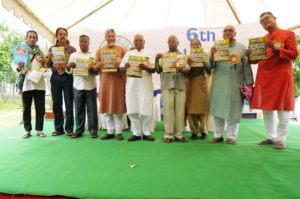 Dr. Rajendra Singh delivered the keynote address for the event. Also known as the Waterman of India, Dr. Singh was awarded the Stockholm Water Prize, an award known as "the Nobel Prize for water", in 2015. Previously, he won the Ramon Magsaysay Award for community leadership in 2001 for his pioneering work in community-based efforts in water harvesting and water management. During his talk, Dr. Singh urged the mm&P member organisations not to lose heart with setbacks and challenges, saying that only 1% of the people are truly regressive in their thinking, 99% are ready to understand issues and implement solutions once they are convinced of its feasibility and sustainability.  He recounted his own experiences in Rajasthan working with the communities and the slow journey to acceptance and success in his rainwater harvesting initiatives. Two books, "Recognising Grassroots Struggles for Rights to Resources, Livelihood and Health" and "Dhimsa", a magazine in Telugu for indigenous communities of Andhra Pradesh were released during the meeting.
Dr. KV Krishnamurthy, Dy. Director-General (Retd.), Geological Society of India, gave a detailed presentation of the impact of coal mining on water. He emphasized that every stage of the mining process right from exploration to transportation and burning of coal has a negative impact on the environment. He spoke of the extensive precautionary measures that are needed to minimize the damage to soil, water, air, humans and wildlife in mining areas and also about the neglect of best practices guidelines in the mining industry.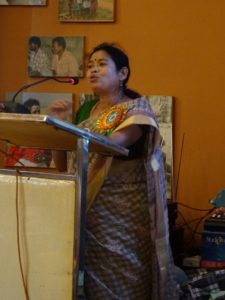 Subsequent talks focused on land rights issues related to mining areas. The participants were vocal in conveying their doubts and issues with intricacies of government processes. Ms Indu Netam, Ms. Bhagya and Ms. Sia Dulari spoke on the plight of women and children in the mining sector. Of particular concern was the exploitation that women, especially young girls, are subject to.
Vinod from Gravis, an organisation based in Rajasthan that works on occupational health issues within the mining community, spoke on the issues of silicosis and silicotuberculosis that were of common occurrence. He said that the mining corporations did not give any heed to health safety requirements or protective gear for the employees. Almost every person who had worked in the mines for more than 10 years was sure to contract silicosis and die a lingering painful death. Vinod said that there were a number of villages where almost all the women were widows having lost their husbands to silicosis or mining accidents.
Rajesh Tripathi of Jan Chetana pointed out that there was almost no doctor at the primary health care centres who had been trained to diagnose silicosis. Confronted with symptoms of weight loss, fatigue, respiratory distress, etc. the doctor would certainly diagnose tuberculosis and there have been cases where silicosis patients have received tuberculosis treatment for many years before finally succumbing to their illness. Suggestions from the participants included adding occupational health and safety into the Medical Council of India MBBS curriculum.
Lack of nutrition, unhealthy working and living conditions, and the constant danger of abuse, especially for women, creates an environment of despair and hopelessness. While a number of organisations have come forward to speak up against the atrocities being perpetrated and empower women to protect themselves, such pockets of light are still very few and far between given the overall darkness that they seek to dissipate.
CR Bijoy spoke on the issues and challenges of laws protecting schedule areas while acknowledging the local indigenous communities' rights to natural resources in those very areas. Rahul Basu from Goa Foundation spoke on the Future Generation Fund or Intergenerational Equity that aims to ensure that economic benefits of mineral resources are passed down to the future generations in the form of citizen's dividends.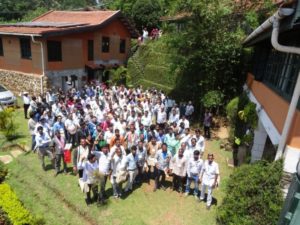 After three days of presentations and discussions on the multitude of issues that the mining community faces, it seems incredible that this band of men and women, spirited though they are, can take on the juggernaut of corporate might and labyrinthine government systems. But the energy and passion that came through at the meeting combined with all that they have already achieved does give some degree of hope that injustices and inequalities might finally be on their way out.