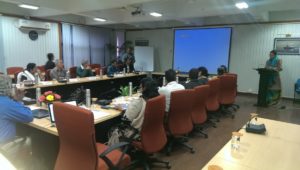 Keystone Foundation is all set to sign an MoU with the Indian Institute of Forest Management, Bhopal to work together on areas of mutual interest. This was decided at the Think Tank Workshop on Payment for Ecosystem Services (PES) recently hosted by IIFM Bhopal where Keystone's work exploring the possibility of applying the PES model on three ecosystem services – water, pollination and non-timber forest produce (NTFP) was presented.
Keystone's work on PES finds resonance with IIFM's recently concluded study on "Economic Valuation of Tiger Reserves in India" which estimated the economic value of ecosystem services emanating from six selected tiger reserves across India.
Dr. Madhu Verma shared a summary of the work done and outcomes achieved by Centre for Ecological Service Management (CESM) since 2007. CESM focuses on ecological services like water production and watershed conservation, carbon sequestration, biodiversity conservation and bio-prospecting, ecotourism and landscape conservation and ground breaking research work done by CESM in these fields has directly influenced policies on natural resource management in India.
Working together, Keystone and IIFM would bring a combined experience of 55 years in managing vulnerable ecosystems to the collaboration.