A post from the CEPF Blog is reproduced here with permission. The original post is found here.
Collaboration and Conservation: Experiences of the Western Ghats Portal
April 26, 2013
Building an open and collaborative information system for biodiversity and ecosystem services in India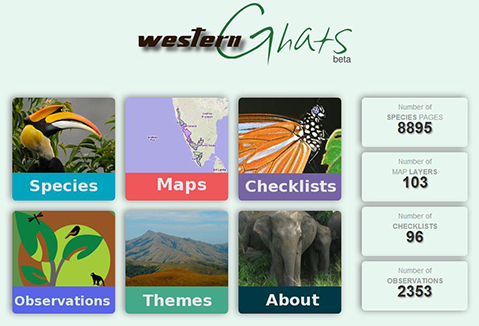 India's biodiversity has been explored and documented for centuries, but information on this mega-diverse part of the world has not always been easily available to conservation scientists. In an attempt to address this problem, CEPF funded the Western Ghats Portal.
The Western Ghats region stretches along the west coast of India. The portal serves as an open and collaborative information system on biodiversity in the region, which is part of the Western Ghats and Sri Lanka biodiversity hotspot. Modeled on the India Biodiversity Portal, the Western Ghats Portal was launched in 2011 and is still being developed.
Since the portal is built on the principles of open data, public participation is encouraged, and to date, several individuals and organizations have contributed. Following are perspectives on the project from some of its team members.
Fascinating descriptions of species and their distributions throughout India are available in traditional literature, from biological explorations during the colonial period and from current research. However, if you want to find information on the biodiversity of India online, you may not find the information, or you may find it in many places – on various websites, with varying quality.
We thought we should address this need by providing a participative platform for aggregating biodiversity information specific to India, and campaign among groups to contribute information. With support from CEPF, the Western Ghats Portal was developed to help consolidate the information in the region and provide open access to the data.
We still have a long way to go to truly aggregate and assemble authoritative information on every species, but it is underway and already impacting the region. In fact, the information aggregated in the portal was instrumental in gaining recognition of the Western Ghats as a UNESCO World Heritage site.
Since childhood, I was always interested in nature and its diverse wonders, and it was only natural that this fascination translated into a need to capture nature through photography.
The Western Ghats Portal harnesses the power of photographs like mine by gathering crowd-sourced information on biodiversity, with a user community comprised of experts and amateurs alike. All of the data uploaded is free and open to all, and content is available for distribution based upon the Creative Commons license.
Sharing my images online provides great satisfaction, and an opportunity to learn more about all of the wonderful creatures that live nearby in Kerala. I've also learned how to identify the birds, butterflies and other insects that I photograph.
The portal's mix of users helps to bridge knowledge gaps and facilitate information sharing. By crowd-sourcing information from hundreds of people, varying from the common citizen to expert researchers, the portal allows for information on the distribution of a species to be readily available in a short period of time. The information gathered is map-based and can also be used to assess the impacts of development on biodiversity in a specific area. In fact, over 150 maps are available for download.
I've gained personal satisfaction from uploading my photographs to the portal because I know they are contributing to a deeper understanding of biodiversity and that information will hopefully help facilitate better planning and conservation. I am now open to the greater common good of open data sharing and continue to learn and connect with the community through the portal.
There are obvious limitations in capacity when trying to share more complex information such as biodiversity data with taxonomic and spatial components, and Keystone Foundation has experienced firsthand the difficulties in designing and deploying a system for sharing such data. We started an Open Database to share data from publications on the forest plants of the Nilgiris. Then, over the past four years, we began sharing publications and other documents under a Creative Commons license on our website.
The initiative by the India Biodiversity Portal and Western Ghats Portal has been timely and relevant to Keystone, as we partnered together to share information through their species pages. Sharing data through the Western Ghats Portal is much more meaningful from an end-user point of view, as it is part of a larger database that is linked to other online portals, including the Encyclopedia of Life (EOL).
Sharing information through the Western Ghats Portal also enables collaboration between institutions with diverse interests and domains. From Keystone's perspective it is a win-win, as we do not have to worry about the technical aspects of developing the platform (or raising the resources to do so) and can focus on our core activities – knowledge generation.
T. Balachander is the program coordinator of training and information for Keystone Foundation. Keystone has been working in the Nilgiri Biosphere Reserve (NBR) since 1995 with indigenous communities on eco-development initiatives. The foundation actively supports open data in general and for the portal.
Dr. R. Prabhakar is a director at Strand Life Sciences, a company that uses research biology to develop software and services for life sciences research. Strand Life Sciences lent the services of Prabhakar to lead the development of the India Biodiversity Portal.
Thomas Vattakaven is a researcher working to generate participation from CEPF grantees for the Western Ghats Portal, a repository of information designed to provide information on the biodiversity of the Indian subcontinent.