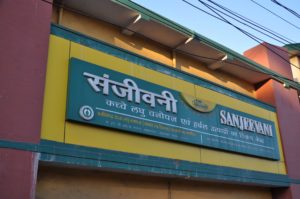 This was a pleasant surprise for all of us – a mail from the principal secretary to the Governor of Chattisgarh, inviting us to visit him. He had seen the programme Amazing Indians and felt that there was a connect that could be cultivated for the state, particularly with non timber forest produce (NTFPs). I needed `help' and that came in the form of Sneh and Madhu as we travelled to Raipur and spend a couple of days (11th and 12th March), with them, visiting, sharing and discussing various aspects.
On the 10th evening, we had a meeting with the Hon'ble Governor, Mr. Shekhar Dutt,  who had retired from the Govt as the Defence Secretary. Mr. Amitabh Jain, the PS to the Governor and Ms. Sanjeeta Gupta, Conservator and GM of the CG State MFP Federation, accompanied us. We then visited the local Sanjivini shop (retail outlet) as well as the NWFP Mart (deals with forest produce on a wholesale basis). Honey seems to be the best seller even there.
On 11th, we had an opportunity to visit the Hastshilp Vikas Board and have a look at the initiatives being taken them – the potential is immense. Later in the afternoon, we had presentations with the top brass of the CG Forest Department –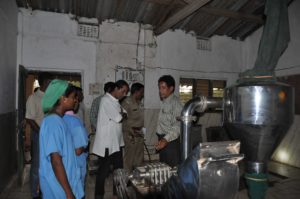 . Sneh – Local livelihoods & NTFP
. Madhu Ramnath – Conservation values in NTFP Management
. Mathew – Marketing & Certification of NTFP
The next day was a long one with a visit to Bilaspur (honey processing center), Sanjeevani and NWFP Mart and then to Donganala (vanaushadhi processing center) – interesting as the DFO was a product of the Mettupalayam Forest College and extremely pleased to meet Madhu, of whom he had heard so much (a legend!!)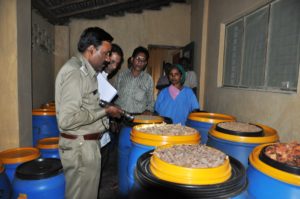 To sum up, CG Forest Department has made a lot of efforts and definitely one of the far sighted departments in the country. Countless trainings on sustainable harvesting, efforts on conservation, value addition have borne fruit. However, with mining being a major issue in the state and declining species in the wild, much more efforts need to be initiated before the richness of the state is lost. Branding and marketing skills sharpening would also allow the message of conservation to reach out to the larger public.