4 April 2016, Kotagiri: As part of Keystone's community wellness programme, a series of health camps had been organized in association with Banyan, an NGO from Chennai. A total of three camps were held on 2nd and 3rd April in Kotagiri and Sholurmattam and Sigur respectively. This is the first ever effort to provide health services related to psychosomatic conditions to the indigenous communities in the Nilgiri Biosphere Reserve.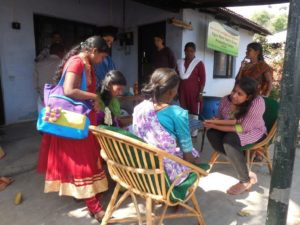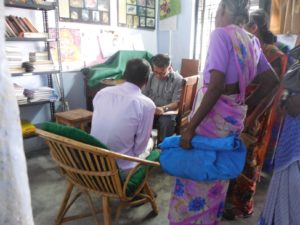 Dr. Kishore, Nisha, and Nabiya from Banyan provided assistance to the attendees.  The aim of the camps was first and foremost to provide the community with opportunity to come forward and discuss issues not commonly covered under health services. Issues with an underlying psychological condition very often go unrecognized and therefore untreated . The camps also helped the project teams to make an assessment of the prevalence of such conditions and possible precipitating factors within indigenous communities.
Attendees to the camps were mostly from the tribal communities of Kurumbas, Irulas and Kasavas. Beneficiaries were identified by the community or brought to Keystone's attention by Seemai Sudhi volunteer reporters. (The Seemai Sudhi is a community newspaper run by Keystone bringing relevant news and issues from within the communities to the fore.)
During the two days of the camps, issues addressed included schizophrenia, depression, and anxiety. Besides this, the communities in Kotagiri, Sholurmattam and Sigur had also voiced concern at the number of persons displaying symptoms of epilepsy. A total of 28 persons ranging in age from 6 to 56 years came in for discussions with Banyan team during the camp.
Based on the response to the first set of camps, it has been decided that similar camps are to be held on a bimonthly basis to enable indigenous communities to have access to holistic health care.