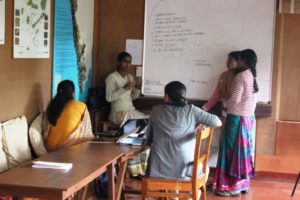 16 July 2016, Kotagiri: The Health and Community Wellness Programme has recently identified eight 'nalam' or wellness workers who would act as a support system for individuals of indigenous communities affected by health issues.  The workers have been tasked with creating awareness and linkages and understanding the cultural context of pathways to care and the relation between biomedicine and traditional health-seeking practices of communities in their focus areas.
Identified from within the communities itself, the eight nalam workers are to be active in a total of five areas beginning with Aracode and Sigur, followed by Hasanur, Punanjanur, and Pillur. They are currently undergoing several trainings on nutrition, physical and mental health, health systems, social welfare measures, and ethnographic research, provided by knowledge partners such as Cornell University, ASHWINI, and Banyan.  As the project progresses, the programmes hopes to have two such active nalam workers in each of Keystone's working areas.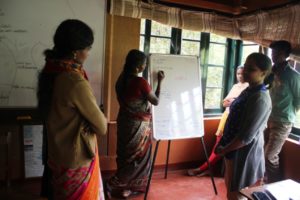 In addition to physical health, the nalam workers are being trained to be able to identify and understand signs and symptoms of mental ill-health. They will be keeping track of 30 individuals in Sigur, Aracode, Konnavakkarai and Kotagiri identified as requiring mental health care and ensuring that the individuals are compliant with follow-up instructions. These individuals had been identified during the course of three mental health camps organised by Keystone earlier this year in Sigur, Sholurmattam and Kotagiri.
The Nilgiri Biosphere Reserve is home to over 30 distinct tribal communities spread across many small villages and hamlets, some of which are extremely remotely located requiring, even today, many hours of travel to reach a primary medical facility. While a community's resilience and coping strategies for minor ailments under such circumstances are remarkable and worthy of research, major illnesses or medical emergencies rapidly turn into life threatening situations. In such a setting, the community stands to gain an invaluable resource in trained nalam workers who would be the link between an affected individual and specialized care while keeping track of the wellness quotient of a community. Sustainable interventions such as these are crucial for the continued wellbeing of communities of the Nilgiri Biosphere Reserve.