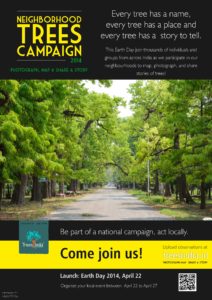 Keystone Foundation and Nilgiri Natural History Society are partnering with TreesIndia @ India Biodiversity Portal for the Neighbourhood Trees Campaign, 2014.
Every tree has a name, every tree has a place and every tree has a story to tell.
From Earth day (22nd April) to 27th April join thousands of people across India to map, photograph and share stories of trees in our neighbourhoods!
The objective is to bring people from all walks of life together to contribute and build a vibrant virtual community around the charismatic, yet so familiar `trees'.
Objectives
To document the natural and cultural history of all the trees in India.
Have one species page for each trees found in India.
To make this portal a virtual easily-searchable encyclopaedia on Trees of India.
To build easy keys to identify trees, initiate campaigns to conserve, protect, and restore endangered tree species.
Visit treesindia.in for more details & Register now! You can find details of a campaign near you here.
Watch this space for more details of our campaign in the Nilgiris.