On 17th February, 2011 Rangawamy breathed his last in Semmanarai village. The next day was his funeral. I sat on the thinnai of his house unable to fathom that the scene around me was real. His wife, Sarasu, a cheerful though unwell lady, was tearful and holding onto her girls. Drums, mourning, flowers and the heady smell of agarbatti…. In 1994, when we first came to Nilgiris, Semmanarai was one of the first villages we visited. Aandi introduced us to Rangaswamy, who was a very shy and quiet person.
Amazed that people had come to find out about honeyhunting, bees and Kurumba tradition – he slowly came out of his shell and we became friends. He was the man who came down the mal kodi, swinging from great heights of Swarnavali barai, Padi barai (names of cliffs), etc.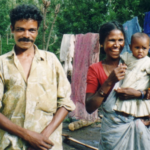 Over the years we at Keystone and the Kurumbas of Semmanarai bonded well, we shot the movie `Honeyhunters of Blue Mountains' with them over three seasons. The film won many accolades and awards in another world, far from Rangaswamy's world.
All sorts of work, ideas and developments followed those early simple years. Keystone grew big and Semmanarai was one of the many villages, though an important one from where we learnt about traditional agriculture, the clan and kinship amongst Kurumbas, got introduced to other honeyhunters. Semmanarai now has a production centre which makes bees wax candles, balms, collects honey, silkcotton and spices locally. Many new ideas are initiated in the "Semmenarai lab" and Rangaswamy was always interested in all of them, though remaining a recluse, shy and quiet observer. Rarely did he speak up in meetings, but was always present. I found his and Sarasu's home the easiest to be in – eating lunch, watching Chitra and Sumitra grow up, the entry of a lone cow to their home, some goats across the yard. However, my visits to the village became rare with the expansion of work. One shortcoming of growth is the lack of personal relationships and subjective feelings. Since 2005, he stopped going for honey gathering as he had become very ill with a heart complication. A year back Chitra got married and he came to call us for the wedding. I did not know, this would be the last time we would see him physically.
One amongst those who laid the foundations of our experiences in these hills and with adivasi world, Rangaswamy will be missed a lot. He was a friend to all in the village, loving and affectionate to children in the neighbourhood, gentle and kind in temperament. I wish his soul a good journey to another world.
Sneh
20th February, 2011