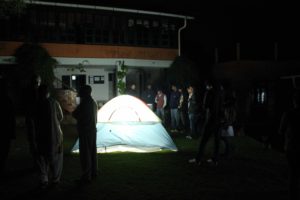 Moths are an impressively speciose group that comprise around 160000 known species globally (about 8 to 10 times! the number of butterflies). Despite this diversity, the reasons for this taxon to remain little known could be attributed to various reasons such as their nocturnal or crepuscular habits, their impressive adaptations such as camouflage as a defense mechanism and well, the misconception that they are not as charismatic as their cousins, the butterflies.
To make a change in the latter notion, a "Moth Night" was organized at Keystone Foundation on the evening of July 19, 2014 as part of the Annual Moth Week – a small first step towards inculcating interest among people on
Moths. As expected, the idea of "moths" did not draw a huge crowd but there were about 20 interested participants who were open to know more about these unique insects. There was a small introduction given about moths and how they differ from the better known butterflies, following which a 2002 French movie, Le Papillon (A butterfly) was screened. The night ended with Mothing or Moth watching where light traps were set up to attract moths. Although only a handful of moths were spotted due to the unfortunate chill of that evening, it was still an interesting experience coming across some beautiful representatives of the Family Geometridae
among the others which are yet to be identified.