14 March 2016, Kancheepuram: In 2015, the world's leaders adopted the 2030 agenda for Sustainable Development which includes a set of 17 Sustainable Development Goals (SDGs) to end poverty, fight inequality and injustice, tackle climate change, and ensure the sustainable use of natural resources by 2030. The Right(s) Way Forward process has been developed to address a number of sustainability issues in one integrated process. Keystone Foundation has signed a MoU with Forum Syd to train partner organizations in the use of this tool. As part of this agreement, Archana Sivaramakrishnan and KG Ramachandran undertook a two-part training workshop last week in Kancheepuram, Tamil Nadu with Hand in Hand India and their partner CBO, Friends' Association for Social Service.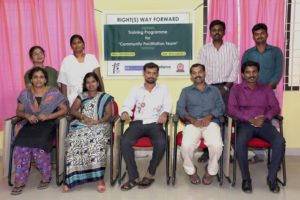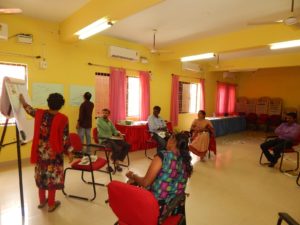 The Right(s) Way Forward is a process developed by Forum Syd for use by rural communities planning for sustainability.  At the centre of the process is a community tool comprising participatory methodologies that supports analysis of the community's use of, access to and control of natural resources while emphasizing gender equality in natural resource distribution and related livelihoods. It also enables community ownership of the process.
The first step in this process is Community Mobilisation resulting in a Community Action Plan and, with proper support and implementation, Just and Sustainable Changes. The workshop in Kancheepuram provided training on the first step, ie Community Mobilisation, to the participants.
Forum Syd is a Swedish-based nongovernmental organization working with people and people's rights. It believes that only when people's rights are being recognized can sustainable and long-term development occur. Their work focuses on issues of democracy, equality, and the sustainable use of natural resources.