This conflict between bears and bees is a known fact. In Kotagiri, lately, sightings of sloth bears have become ordinary in suburban areas. They often go in search of food such as fruits or dumped food waste etc.
If there is honey the bear doesn't care. The sweet taste of honey is something that bears love. At our campus, bears have been raiding bee boxes. Justin Raj, our beekeeper says "We've kept them on the roof, on the highest tree on campus, sheds, but as they have a strong sense of smell, they always find a way to somehow reach it". Bees do sting them, but bears have dense fur and thick skin that protect them from getting stung, once they relish the honeycomb and munch on it they move away from the bees.
We experimented with different methods but none of it could resolve the issue. However, a recent approach is turning out to be positive. Robert Leo fabricated a design using an erected pole, a bee box holder with slots and a pulley. The chain of the pulley runs through the hollow center of the pole.
During our conversation, he says "This idea came to me when I was going back home one day. I saw this street lamp post and wondered how they would change bulbs whenever required and noticed that they used a pulley system to lower just the head, replace the bulb and raise it back".  He uses the same technique, but instead of bulbs, he mounts bee boxes.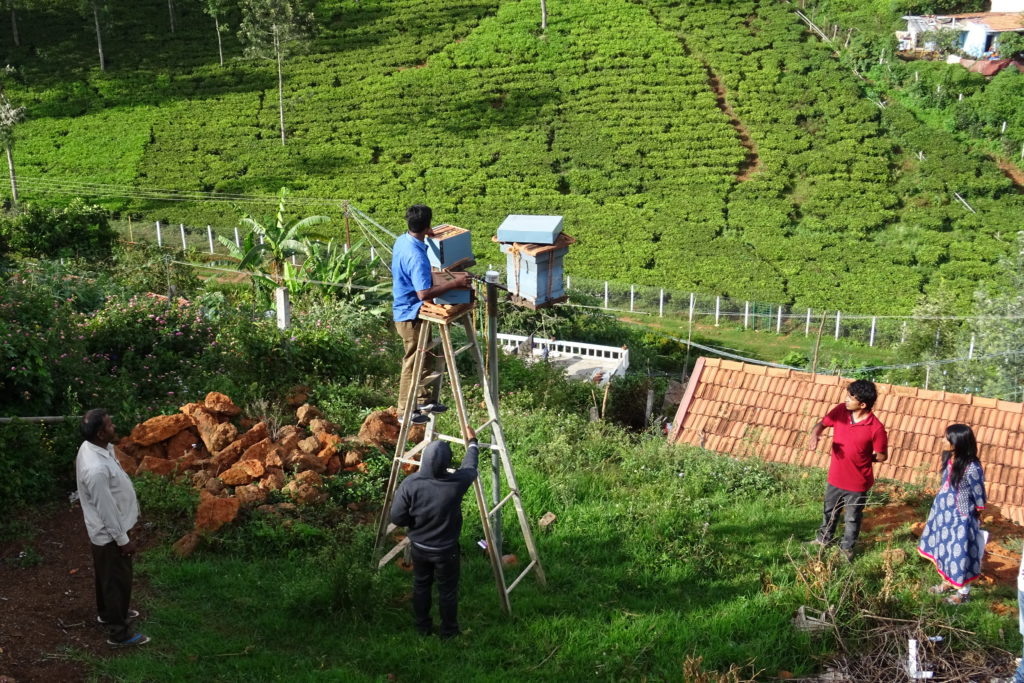 The first one is set up at our workshop – Pattrai, below our campus. This is how it works. Whenever a beekeeper wants to check the boxes he can lower it and then raise it back to the original position. The boxes are kept at a higher distance from the ground which keeps it away from ants and other insects.
Sloth bears have sharp claws that curve more than 1.5 inches; this helps them climb with ease. The diameter of the pole makes it hard for them to get a grip. Leo says "They have made attempts to climb this as well, and we realized that they shake the pole when they are unable to reach it".
To make the steel pole more stable, a plastic pipe with a smaller diameter is inserted through the hollow center. The pulley chain runs through this. The space between the plastic pipe and the steel pipe is filled with concrete.
Three of these have been installed at Anjanagiri Estate in Kotagiri and is successfully functioning. Bear scat is found at all three spots where the pole is kept, but Murugan who works at the estate says that the bee colonies haven't been disturbed as the bears lose patience and go away in search of berries and fruits which are easily accessible.