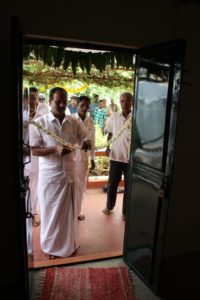 26 August 2016, Hasanur: The eighth Keystone Resource Centre in Arepalayam was opened today. This Centre will be the base for Keystone activities in and around Sathyamangalam and Chamrajnagar areas. Conservation initiatives of research projects, barefoot ecology, trainings in field ecology, environment leadership programs and conservation education will be conducted out of this Centre, which is also set to host Indian and international students. Information and training regarding Forest Rights Act, livelihood initiatives, and health and community wellness activities are to be strengthened in the areas for which the Arepalayam Centre is now a base.
The Centre is housed in a small compound near the local school. There are two small buildings, one an office space and the other which will serve as a living area for staff and visitors. A large trumpet flower tree (Tecoma stans) stands beside the main gate and the gorgeous yellow blooms were the perfect decoration for opening day. The opening was inaugurated by Hasanur Gram Panchayat President Chandran, and Vice President Nagaraj. Village Forest Council presidents and Forest Rights Committee presidents and secretaries from Ittarai, Thadasalahatti, Bejarhatti, Mavanattam, Gali Dhimbam, Gedesal and Hasanur were also present, as were workers from the Aadhimalai production centre at Hasanur. Robert Leo welcomed the gathering followed by a short opening ceremony, with lamps and dhupa. B.Mahadesha, P Chandran and KG Ramachandran addressed the gathering detailing activities and initiatives that we hope to base out of the new centre.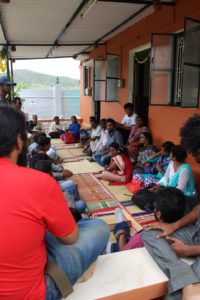 The Keystone monthly staff meeting is held on the last Friday of each month. The conservation team had decided that this would be the perfect opportunity to share the centre opening with the whole of Keystone. Thus, the August staff meeting was held in the verandah of the new centre against the backdrop of Sathy hills – a refreshing different setting for animated discussions ranging from preparing background information for citizens' initiatives to conserve a water source and Keystone field areas updates to marauding monkeys on campus and canteen upgrades. Special mention was given to Mahadesh for the effort that he had put into establishing the new Centre.
The staff meeting was followed by a wholesome lunch at the Kumbeshwara temple grounds in old Hasanur that was gate crashed by local goats keen to sample the fare. The 3 km hike post lunch took us in a wide circle across grasslands and crop fields planted with garlic and turmeric. This is part of the buffer zone of Sathyamangalam Tiger Reserve.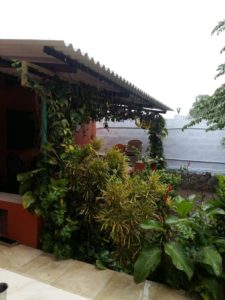 The conservation team returned to the Centre to clean up after the rest of the group had departed for their destinations. A closely knit group, they laughed uncontrollably recounting stories from past field trips. Tasks completed, they sat in the verandah sipping hot tea as gathered storm clouds broke sending down the rain – a fitting end of day for this team that had worked so hard to make the Arepalayam Centre a reality.
View the gallery here