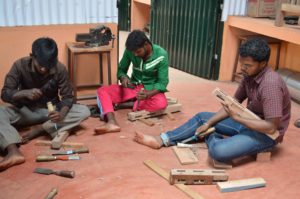 15 days carpentry training was conducted in the month of September.  Six Tribal youth underwent this intensive carpentry training. The curriculum included types of wood, different usages in construction, furniture fabrication and various types of carpentry tools with appropriate usage. Under the construction training, the trainees were practically involved in measurements, types of joints, fabrication of doors, windows with glass panels, fixing roof, rain water guttering with sky lights and ventilators. Also a brief training on furniture making was demonstrated and trainees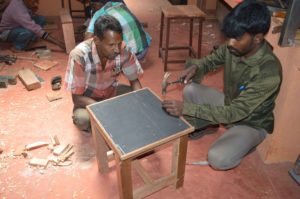 have made wooden stools, cot, book shelves and grocery cupboards. The enthusiastic trainees came from Asanur and Pillur region.
The trainees have demanded to own a set of their basic carpentry tools and were willing to contribute 20% of the cost. The tools were bought and distributed later. The course was conducted by Mr.Rajendran, senior carpenter and course certificate was distributed.