In an era of the fast and the instant, a movement that is trying to slow things down to a more sobering yet enjoyable pace through its focus on local, sustainable and fair food is "Slow Food". Its been a journey of 20 years for the movement. More information on Slow Food can be found at the Slow Food website.
This year on 10th December we at Keystone joined over 900 similar celebrations across the world to express solidarity with Slow Food on Terra Madre (Mother Earth) Day. Celebrations were held in the Keystone Campus at Kotagiri and in the Green Shops.
In the campus, we were joined by friends visiting from Ladakh and also other parts of Tamil Nadu. We had a presentation on Slow Food by Mathew which was translated to Tamil by Leo. This was follow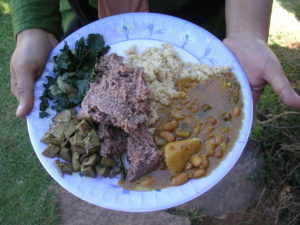 ed by a sumptuous lunch of slow food cooked by our colleagues. We had Ragi and Thenai (millets) as main dishes with a kuzhambu of a local variety of Beans (not available in the market) with potatoes and a dry curry of Jackfruit. We had a payasam/kheer of Ragi and Thenai as dessert, with Bananas at the end according to local custom.
In the GreenShops, visitors were offered organic tea/coffee along with locally made biscuits. The concept of Slow Food was introduced to them.
See more pictures of the event in the Gallery.
.