Over 70 government staff and volunteers were trained on springshed management over a week long training in Shillong by MBDA and the Springs Initiative. This is part of a larger effort at capacity building for a springs management programme at the state level in Meghalaya.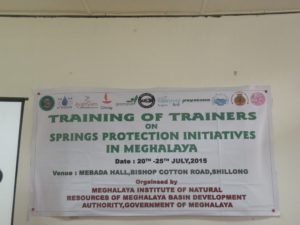 Gokul attended a training that was held from July 20th to 25th in Shillong on Springshed Management. It was meant as the foundation for a Training of Trainers contingent who will carry forward capacity building under the Meghalaya springs programme. It was attended by 70+ people from Soil and Water Conservation Department, Water Resources Department, volunteers working under the Meghalaya Basin Development Authority and its associated programmes. The participants included Junior Engineers, field animators, and MSW graduates from every district in the state.  It was organized by the Springs Initiative and the MBDA. Partners from Arghyam, Acwadam, PSI and Keystone Foundation lead and facilitated sessions.
Four days were on the MBDA campus and two days were in the field. The campus days consisted of both theoretical and practical hands-on training sessions. The beginning of the training was about understanding springs and groundwater resources and the latter part was aimed at applying that knowledge to springshed management. Sessions were tailored to Meghalaya. See below for details of the agenda and a map of locations visited.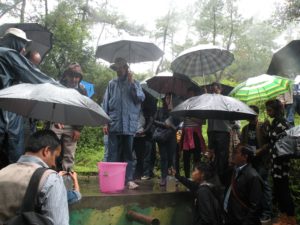 The majority of time was spent on geology, hydrology and field techniques for mapping and monitoring springs as well as identifying springsheds – this was based on previous feedback and the background of the participants.
Overall, the training went well and the feedback was positive. Despite a total lack of previous geology training the participants learned a lot about hydrogeology fundamentals, field methods and applied springshed management. Several volunteers were able to lead aspects of the training by the end of the week, particularly the use of the tracer, measurement of discharge, GPS and field sheets and to some extent, use of a compass/clinometer for geologic mapping.
Participants requested more field time at the next training as well as a review of the geology and more time on using google earth and the field instruments. Consensus was that we should meet again with the same group in a different part of Meghalaya later in 2015 and early in 2016.
Participants were given goals of identifying the geology of their area, and monitoring at least 1 spring every month before the next training.