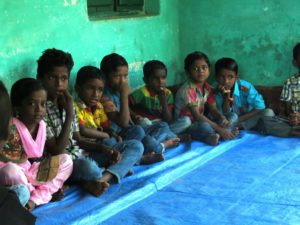 10 September 2016, Pillur Dam: A bright and sunny morning at the Keystone Resource Centre witnessed the gathering of 30 children of varying ages from the villages of Baralikadu, Korapathy, Kil Pillur, Nellimarathur and Neeradi, accompanied by eight storytellers. It was interesting to see Deepa (10 years old), from Kil Pillur who inaugurated the session with a story about frogs and humans, which was very well received. Soon the storytellers took over and began with narratives of how different villages came into existence, how certain landmarks were historical and how they came into existence, people's interactions with wildlife and their own lifestyles. A lot of their beliefs and interactions with nature also came across in their stories.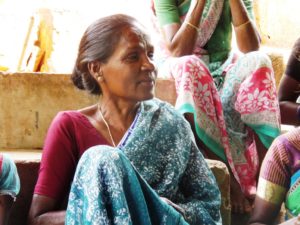 A more fascinating thing was the way in which children and adults took turns narrating stories and this went on for almost two hours. The stories continued over lunch and it was rather reluctantly that everybody departed to their villages on the afternoon bus.
A rather sad and touching moment was also the passing of an elderly dog that had made the Pillur Resource Centre premises his home. He passed on while listening to the stories, and was accorded a farewell unlike any other… elephants trumpeted as he was being buried, and there was a slight drizzle as well.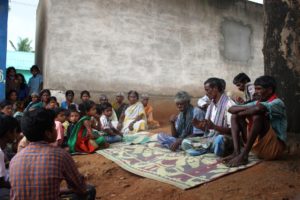 Two weeks earlier on 27th August, a similar event was conducted in Punanjanur. A sleepy Saturday afternoon in Srinivaspura Colony, Punanjanur, was transformed by the gathering of nine repositories of Sholiga folklore and 21 children from nearby villages. They gathered under a tree beside the temple to share stories that had been handed down through generations.
Sholigas live in settlements in and around the forests of Biliranga Swamy Hills, Malai Mahadeshwara Swamy Hills and Bandipur in Karnataka and in Satyamangalam forests in Tamil Nadu. Legend has it that the Sholigas are descendants of Mahadeshwara Swamy. Once, when Mahadeshwara Swamy was out walking with his two sons, they saw an animal. Karayya ran after it but Billaaya did not react. Observing their responses, Mahadeshwara Swamy asked Karayya to settle in the jungle and Billayya in the plains. Karayya's children came to be known as the Sholiga and Billayya's children were the Lingayat. Their name 'Sholiga' itself points to their relationship to the forests – 'Shola' = forest and '-iga' = belonging to.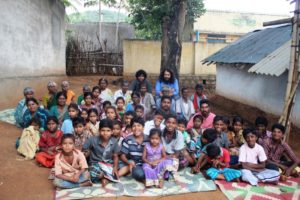 The afternoon was perfect to sit and listen to stories and songs. The children gathered were also quite eager to hear some of the stories. The storytellers soon began with stories of where the elephants come from, how many of the settlements came into existence, stories of their earlier lifestyles, and a couple of Gorukana as well. Curiously, the women from the community were more open to sharing narratives, while the men seemed a little shy. Would that be why children instinctively go to Grandma for a story?
The session ended with a sumptuous lunch at the Punanjanur resource centre, with promises from the children to bother their parents and grandparents for more stories, and the storytellers wanting to have more spaces in which to share their stories.